Home Combustible Gas Alarm
The combustible gas alarm is an alarm device for detecting gas leakage. The component that reacts to the combustible gas is a gas sensor, and the response signal is converted into an electrical signal through the circuit board. When the combustible gas in the air reaches a certain concentration value, the alarm will alarm. The high-end household combustible gas alarm can automatically start the exhaust equipment and close the gas pipeline valve at the same time. A wireless transmission device can be installed inside the gas alarm to realize overall monitoring and network alarm to ensure the safety of everyone's life and property.
There are two hazards of gas leakage: one is leakage, combustion and explosion, and the other is personnel inhalation poisoning; among the two hazards,the prevention of combustion and explosion is the top priority.
Health is as important as safety
Traditional home combustible gas alarms only sound on-site when there is a serious gas leakage, but in fact, or carbon monoxide concentrations exceeding the standard caused by gas leakage or incomplete combustion often occur.Although this situation does not cause the same danger as an explosion, it can seriously endanger our health over many years.
Winsen ME2-CO electrochemical sensor can accurately analyze the concentration of colorless and odorless combustible gas and carbon monoxide. When the gas concentration is abnormal, the sensor will immediately give a response signal,
which greatly improves the user's vigilance and prevents problems before they occur. Carbon monoxide is a colorless, odorless, non-irritating gas that cannot be sensed by human. The maximum concentration that a healthy adult can bear within eight hours is 50ppm. When the concentration is 800ppm, dizziness, nausea, and spasm within 45 minutes, loss of consciousness within 2 hours, death within 2-3 hours. Winsen electrochemical sensor detects the concentration of carbon monoxide between 0-1000ppm, and the maximum measurement limit can reach 2000ppm. It can effectively and timely feedback concentration data, prevent carbon monoxide poisoning, and protect health and safety.
The combustible gas sources in people's lives are roughly divided into: liquefied gas (LPG),natural gas,coal gas (LPG) and other alkane combustible gases, etc.
The current gas detection methods for the combustible gas industry are:
Home combustible gas is mainly detected by semiconductor and planar semiconductor components. At present, domestic products occupy the mainstream market, mainly measuring 0-10000ppm. Municipal gas companies mainly use catalytic components, mainly measuring 100% LEL. Mainly used for gas storage, transportation, pipeline safety inspection and other places. After 2007, high-end gas detection products in the gas industry have gradually adopted infrared gas sensors, which can measure 100% LEL and 100% VOL.At the same time, the laser beam technology is used in the gas industry, especially in the long-distance inspection.

Liquefied Petroleum Gas (LPG)
▲ MQ-5 propane sensor
for detecting LPG
The main components are ethylene, ethane, propylene, propane and butane, etc., which are liquid in the gas cylinder. Once they flow out, they will vaporize into a flammable gas that is about 250 times the original volume. It is easy to spread and will burn or explode when encountering flame. If this kind of liquefied gas is used, it is necessary to select an alarm equipped with a propane sensor in a targeted manner.

Natural gas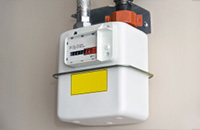 Natural gas is an important energy source and is widely used as city gas and industrial fuel.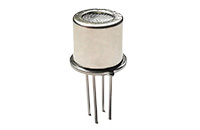 ▲MP-4 methane sensor for
detecting natural gas
Natural gas is one of the safer gas. It does not contain carbon monoxide and is lighter than air. Once it leaks, it will spread upward immediately, and it is not easy to accumulate to form an explosive gas, so it is safer. The main component of natural gas is methane, which is generally transported by pipelines. Therefore, for safety, most cities now use natural gas for supply. When using natural gas, it is necessary to select an alarm equipped with a methane sensor detection module.

Coal gas
Although artificial coal gas (coking gas) is currently used less, it is still used in some areas.It is necessary to select a hydrogen sensor if use coal gas.
Coal gas is made by dry distillation or vaporization of solid raw materials such as coal or coke, and its main components are carbon monoxide, methane and hydrogen. The working pressure of coal-made gas is 1.0KPa, and the gas supply method is generally pipeline.

▲ MQ-8 sensor for
hydrogen detection
Winsen Technology is suitable for the detection of combustible gas such as liquefied gas, natural gas,coal gas, etc. After years of development, gas sensor technology has become very mature. Sensors and modules such as MP series planar semiconductor gas sensors, MC100 series carrier catalytic gas sensors, and MQ series semiconductor gas sensors are widely used in household gas leak detection.
Attached table: sensor selection of gas detection in combustible gas industry
Name

Model
Test object
Measurement range
Picture
semiconductor sensor
MQ series(MQ-2、MQ-4、MQ-5、MQ-6 etc.)
Various combustible gases
300-1000ppm
Planar Gas Sensor
MP series(MP-4、MP-5)
Various combustible gases
300-10000ppm
Catalytic gas sensor
MC series(MC101、MC102、MC105etc.)
Various combustible gases
0-100%LEL
Catalytic gas sensor
MC series(MC112、MC113、MC114)
Various combustible gases
0-100%LEL
Thermally Conductive Gas Sensors
MD series(MD61)
Various combustible gases
0-100%VOL
Infrared Gas Sensor
MH4 series(MH-440D)
Various combustible gases
0-100%VOL
optional
Infrared Gas Sensor
MH7 series(MH-741)
Various combustible gases
0-100%VOL
optional
Air quality

How to choose the right sensor for your project?
We have 17 sensor series, 200+ categories, and 300+ detection objects for gas detection. Such as CO, CO2, VOC, PM2.5, CH4, LPG and so on. In particular, we also have MEMS sensors. According to your industry application, gas principle, power consumption, accuracy, and range requirements, and we can select a specific model for you. You can also use the product filter below to choose a suitable product, or choose online serivce.
The first six FAQs. Use the search bar above to reveal more!
What is the Difference Between Semiconductor Sensors and Electrochemical Sensors?
There is no good linear correspondence between the gas concentration and voltage of the semiconductor sensor, and it is generally only used for fixed-point calibration products; there is a good linear correspondence between the gas concentration and the output current of the electrochemical sensor, and can be made into quantitative detection products.
What Are the Precautions for Manual Soldering of Semiconductor Sensors?
1. Flux: rosin flux with the least chlorine; 2. Constant temperature soldering iron; 3. Temperature: 250℃; 4. Time: no more than 3 seconds.
Can Wave Soldering Be Used for Semiconductor Sensors?
Yes, but you need to pay attention to the following points: 1. Use rosin flux with the least chlorine; 2. Speed: 1-2m/min; 3. Preheating temperature: 100±20℃; 4. Soldering temperature: 250±10℃;