Automotive Particle Matter Sensor ZH30
---
Summary:
ZH30 is a laser type dust sensor, used in automotive field. Adopting Mie scattering principle, it can detect dust Particles in the car. The sensor has good consistency and stability, via mathematical algorithm and scientific calibration. The sensor supports LIN communication, Small size, and easy for integration.
Main Applications:
Automotive pre-installation market
Automotive Air conditioner
Car air purifier
Feature:
* Good consistency and accuracy;
* Real time response;
* 0.3µm Minus resolution of particle diameter;

---
APPLICATION
Vehicle exhaust contains hundreds of different compounds, including suspended solids, carbon monoxide, carbon dioxide, hydrocarbons, nitrogen oxides, lead and sulfur oxides. Among them, hydrocarbons (HC) in automobile exhaust are the result of direct emission of unburned or insufficiently burned gasoline in the form of gas. Under the action of ultraviolet light,
Didn't Find Your Tarket Application?
Winsen offers tailor-made gas sensor solutions for your industry
Contact us
---
PARAMETER
Specification
Product Size
Technical Data Sheet
Particle Size

0.3-10μm

Detection Range

0-1000μg/m³

Detection Interval

1s

PM2.5

Detection Accuracy

0-100μg/m³:±10μg/m³

101-1000μg /m³:±10% Reading

(Test Condition: 25±2℃, 50±10%RH, TSI8530, Cigarette, GBT18801-2015)

Power-on Stable Time

30s

Working Voltage

9V~16V(DC, ripple less than 50mV)

Working Current

<60mA

DormancyCurrent

<100uA

Response Time

T90<30s

Working Humidity

0~95%RH(No Condensation)

WorkingTem

-30~85℃

Storage Tem

-40~90℃

Dimension

74.6×53×27mm(L×W×H)

Weight

<45g

Output

LIN 2.1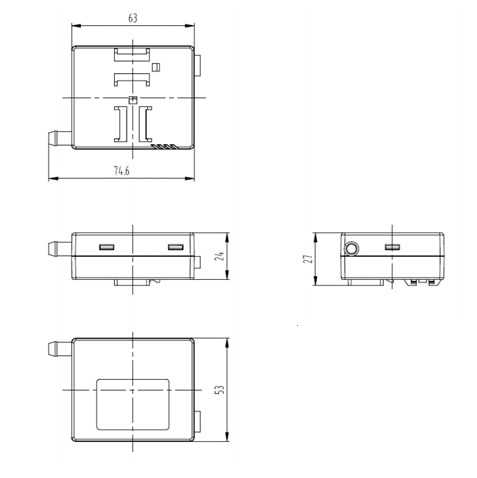 Free Guide! Learn the Parameter Differences of Similar Sensors
Wondering how to find the most suitable one for you out of so many sensors? Download our free guide to learn the comparison table of technical parameters.
DOWNLOAD GUIDE
RELATED PRODUCTS
As a pioneer in gas sensor based solutions with the advanced processes, technologies and products, Winsen offers a wide range of gas sensors:
RELATED PRODUCTS
As a pioneer in gas sensor based solutions with the advanced processes, technologies and products, Winsen offers a wide range of gas sensors:
WHY CHOOSE WINSEN
Professional and Trustworthy
Brand Precipitation
Focus on Sensor Field
National Patents
International Advanced Technology
Detection Objects
More Than 300 Kinds
---
Production Process
Excellence Products
Provide 60+ Countries with Solutions
Serve the Global Market
Cooperate with 300+ well-known Enterprises
More Customer's Choice
How to choose the right sensor for your project?
We have 17 sensor series, 200+ categories, and 300+ detection objects for gas detection. Such as CO, CO2, VOC, PM2.5, CH4, LPG and so on. In particular, we also have MEMS sensors. According to your industry application, gas principle, power consumption, accuracy, and range requirements, and we can select a specific model for you. You can also use the product filter below to choose a suitable product, or choose online serivce.
Here you can learn about the selection guide, common technical problems, packaging, transportation, MOQ, delivery time, etc.
What is your warranty term?
The warranty period is one year from the date of shipment. If the appearance of the product is not damaged, it can be returned after confirmation. For damage not caused by Winsen, the customer shall bear all maintenance costs.
What is your delivery term?