Electrochemical CO Sensor ME2-CO-Ф14×5
---
Summary:
ME2-CO-Ф14x5, fuel cell type sensor, detects gas concentration by measuring current based on the electrochemical principle, which utilizes the electrochemical oxidation process of target gas on the working electrode inside the electrolytic cell, the current produced in electrochemical reaction of the target gas are in direct proportion with its concentration while following Faraday law, then concentration of the gas could be detected by measuring value of current.
Feature:
* Low consumption
* High precision
* High sensitivity
* Wide linear range
* Good anti-interference ability
* Excellent repeatability and stability
---
APPLICATION
If you rest in a closed car while parking and idling, shortness of breath may occur over time. If you sleep with the air conditioner turned on in the cab or with a truck heater, it is easy to inhale too much carbon monoxide and cause poisoning and loss of consciousness. In severe cases, life will be lost.
In daily life, coal, charcoal, and liquefied petroleum gas will produce carbon dioxide after combustion, and carbon dioxide will be reduced to CO in a poorly ventilated environment. CO is a suffocating poison gas, which is colorless, odorless, and non-irritating. If CO leaks, it cannot be discerned by the eye or nose. As we all know, poor ventilation during combustion can lead to a decrease in oxygen content, resulting in incomplete combustion and increased CO production. When the concentration of CO in the room continues to increase, people will gradually feel headache, nausea, difficulty breathing, collapse, dizziness.
Formaldehyde detector is an instrument for detecting formaldehyde. Generally, semiconductor sensors and electrochemical sensors are used to realize the rapid semi-quantification of formaldehyde in indoor air on the spot, which is characterized by simple structure, small size, intuitive,easy to carry and use.
Didn't Find Your Tarket Application?
Winsen offers tailor-made gas sensor solutions for your industry
Contact us
---
PARAMETER
Specification
Product Size
Technical Data Sheet
| | |
| --- | --- |
| Model No. | ME2-CO-Ф14×5 |
| Detection Gas | CO |
| Measurement Range | 0~1000ppm |
| Max detecting concentration | 2000ppm |
| Sensitivity | >0.8nA/ppm |
| Resolution ratio | 1ppm |
| Response time(T90) | <30s |
| Load resistance(recommended) | (500/1K/2K)Ω |
| Repeatability | <3% output value |
| Output Linearity | linear |
| Zero drift(-20℃~40℃) | ≤10ppm |
| Temperature Range | -20℃~80℃ |
| Humidity Range | 15%~90%RH |
| Pressure range | Normal atmosphere±10% |
| Anticipated using life | 10 years |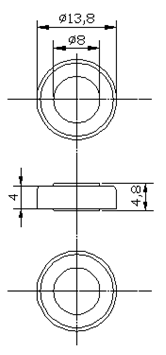 Free Guide! Learn the Parameter Differences of Similar Sensors
Wondering how to find the most suitable one for you out of so many sensors? Download our free guide to learn the comparison table of technical parameters.
DOWNLOAD GUIDE
RELATED PRODUCTS
As a pioneer in gas sensor based solutions with the advanced processes, technologies and products, Winsen offers a wide range of gas sensors:
RELATED PRODUCTS
As a pioneer in gas sensor based solutions with the advanced processes, technologies and products, Winsen offers a wide range of gas sensors:
WHY CHOOSE WINSEN
Professional and Trustworthy
Brand Precipitation
Focus on Sensor Field
National Patents
International Advanced Technology
Detection Objects
More Than 300 Kinds
---
Production Process
Excellence Products
Provide 60+ Countries with Solutions
Serve the Global Market
Cooperate with 300+ well-known Enterprises
More Customer's Choice
How to choose the right sensor for your project?
We have 17 sensor series, 200+ categories, and 300+ detection objects for gas detection. Such as CO, CO2, VOC, PM2.5, CH4, LPG and so on. In particular, we also have MEMS sensors. According to your industry application, gas principle, power consumption, accuracy, and range requirements, and we can select a specific model for you. You can also use the product filter below to choose a suitable product, or choose online serivce.
Here you can learn about the selection guide, common technical problems, packaging, transportation, MOQ, delivery time, etc.
Factory or Trade Company?
Winsen is a factory with over 30,000 square meters area and 500+ production machines which is focusing on sensors development&manufacturing. It has strong R&D strength with more than 100 R&D personnel.
What is your warranty term?
The warranty period is one year from the date of shipment. If the appearance of the product is not damaged, it can be returned after confirmation. For damage not caused by Winsen, the customer shall bear all maintenance costs.
CO sensor
Carbon monoxide is a toxic gas that can cause shock and other dangers to the human body. Therefore, whether it is some mine units or hospitals and schools, it is often considered to install carbon monoxide sensor equipment to prevent this gas.
How to prevent carbon monoxide poisoning?
Carbon monoxide is a colorless, odorless, non-irritating, toxic gas that cannot be sensed by the five senses. It can inhibit the oxygen-carrying capacity of the blood. When poisoned, it is often impossible to detect it by yourself, and it is already too late.
Underground parking lot CO monitoring
Carbon monoxide (CO) is a colorless, odorless and toxic gas. With the popularity of private vehicles and underground garages, poisoning incidents caused by it are also frequently seen in the newspapers. In recent years, the state has also begun to require carbon monoxide detection systems in underground garages. For example, Article 8.6.3 of the "Jiangsu Provincial Green Building Design Standards" stipulates: "Underground garages with mechanical ventilation should monitor and control the CO concentration in real time." How to detect, design and install carbon monoxide gas has never been involved in many civil construction design institutes and engineering companies.