Electrochemical Carbon Monoxide Sensor Module ZE730-CO
---
Summary:
ZE730-CO is a general-purpose, miniaturized gas detection module. The module is equipped with a fuel cell type electrochemical button sensor, which not only has low power consumption, but also can effectively avoid the risk of leakage of traditional electrochemical sensors. In terms of circuit, the instrument amplifier, high-precision AD converter, etc., the detected gas concentration is converted into a digital signal, and the data transmission can be carried out through serial port, PWM and other signals, not only the signal is stable, but also a multiple choice.
Application:
Vehicle lithium battery failure detection, smart home CO gas detection, portable carbon monoxide detector, etc.

Feature:
* High temperature resistance
* Fast response
* Low power consumption
* High precision
* Long life
---
APPLICATION
If you rest in a closed car while parking and idling, shortness of breath may occur over time. If you sleep with the air conditioner turned on in the cab or with a truck heater, it is easy to inhale too much carbon monoxide and cause poisoning and loss of consciousness. In severe cases, life will be lost.
In daily life, coal, charcoal, and liquefied petroleum gas will produce carbon dioxide after combustion, and carbon dioxide will be reduced to CO in a poorly ventilated environment. CO is a suffocating poison gas, which is colorless, odorless, and non-irritating. If CO leaks, it cannot be discerned by the eye or nose. As we all know, poor ventilation during combustion can lead to a decrease in oxygen content, resulting in incomplete combustion and increased CO production. When the concentration of CO in the room continues to increase, people will gradually feel headache, nausea, difficulty breathing, collapse, dizziness.
Didn't Find Your Tarket Application?
Winsen offers tailor-made gas sensor solutions for your industry
Contact us
---
PARAMETER
Specification
Product Size
Technical Data Sheet
| | |
| --- | --- |
| Model | ZE730-CO |
| Detecting gas | Carbon Monoxide |
| Interfering gas | Hydrogen, ethylene etc |
| Output | UART/PWM |
| Working Voltage | 5V±0.5VDC |
| Pre-heating Time | 3min |
| Response Time | <40s |
| Recovery Time | 1min |
| Detecting Range | 0~1000ppm |
| Resolution | 1ppm |
| Working Temperature | -20℃~80℃ |
| Working Humidity | 15%RH-90%RH(No condensation) |
| Stock Temperature | -10~55℃ |
| Stock Humidity | 30%~60%RH |
| Life Span | 10 years (In air) |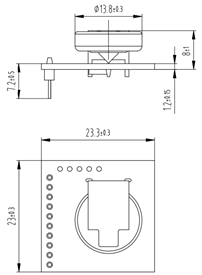 Unit:mm
Free Guide! Learn the Parameter Differences of Similar Sensors
Wondering how to find the most suitable one for you out of so many sensors? Download our free guide to learn the comparison table of technical parameters.
DOWNLOAD GUIDE
RELATED PRODUCTS
As a pioneer in gas sensor based solutions with the advanced processes, technologies and products, Winsen offers a wide range of gas sensors:
RELATED PRODUCTS
As a pioneer in gas sensor based solutions with the advanced processes, technologies and products, Winsen offers a wide range of gas sensors:
WHY CHOOSE WINSEN
Professional and Trustworthy
Brand Precipitation
Focus on Sensor Field
National Patents
International Advanced Technology
Detection Objects
More Than 300 Kinds
---
Production Process
Excellence Products
Provide 60+ Countries with Solutions
Serve the Global Market
Cooperate with 300+ well-known Enterprises
More Customer's Choice
How to choose the right sensor for your project?
We have 17 sensor series, 200+ categories, and 300+ detection objects for gas detection. Such as CO, CO2, VOC, PM2.5, CH4, LPG and so on. In particular, we also have MEMS sensors. According to your industry application, gas principle, power consumption, accuracy, and range requirements, and we can select a specific model for you. You can also use the product filter below to choose a suitable product, or choose online serivce.
Here you can learn about the selection guide, common technical problems, packaging, transportation, MOQ, delivery time, etc.
How is your packaging condition?