MEMS Flow Sensor FR03
---
Summary:
The FR03 flow sensor is developed for the upgrade of the original F1013 product. It uses the MEMS thermal principle to monitor the flow of the pipeline gas medium. This product adopts a low pressure loss design and is widely used in various gas measurement.
Feature:
* High sensitivity
* Very low starting flow
* High precision
* High measurement repeatability
* Low pressure loss
* Modular Design
---
APPLICATION
Ventilator and Anesthesia Machine
The respiratory system is a very important life support system for the human body. The gas flow sensor, which is a key component for monitoring airflow velocity parameters, has been widely used in ventilators and plays an important role. From hospital bed oxygen supply, floor pipeline oxygen supply to oxygen generators, ventilators, anesthesia machines and other medical equipment needs the support of flow sensors.
The World Health Organization's "Indoor Air Pollution and Health" pointed out that the current level of indoor air pollution is 5-10 times higher than outdoor pollution, and 4% of global diseases are related to indoor air quality, and about 2 million people die prematurely each year from diseases caused by indoor air pollution.
Didn't Find Your Tarket Application?
Winsen offers tailor-made gas sensor solutions for your industry
Contact us
---
PARAMETER
Specification
Product Size
Technical Data Sheet
Model No.
FR03
Full scale value (SLM)
0.2/0.3/0.4/0.5
Nominal diameter
DN3
Output method
Linear 0.5V~4.5V(can be customized)
Output impedance
200Ω
Operating Voltage
DC5V~14V
Working current
≤10mA
Accuracy
±(2+0.5FS)%
Repeatability
0.50%
Output drift
0.12%/℃
△Pmax
≤600Pa
Work pressure
Can be customized
Operating temperature
0℃~50℃
Storage temperature
-20℃~80℃
Measuring medium
Dry clean non-corrosive gas
Electrical Interface
2.54mm-5P pin or PH2.0-5P terminal (optional)
Calibration method
Air calibration (20℃, 101.325kPa)
Pin definition
①
②
③
④
⑤
GND
VCC
OUT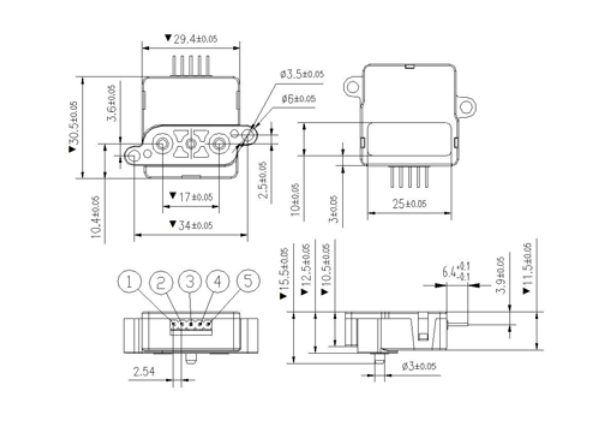 Free Guide! Learn the Parameter Differences of Similar Sensors
Wondering how to find the most suitable one for you out of so many sensors? Download our free guide to learn the comparison table of technical parameters.
DOWNLOAD GUIDE
RELATED PRODUCTS
As a pioneer in gas sensor based solutions with the advanced processes, technologies and products, Winsen offers a wide range of gas sensors:
RELATED PRODUCTS
As a pioneer in gas sensor based solutions with the advanced processes, technologies and products, Winsen offers a wide range of gas sensors:
WHY CHOOSE WINSEN
Professional and Trustworthy
Brand Precipitation
Focus on Sensor Field
National Patents
International Advanced Technology
Detection Objects
More Than 300 Kinds
---
Production Process
Excellence Products
Provide 60+ Countries with Solutions
Serve the Global Market
Cooperate with 300+ well-known Enterprises
More Customer's Choice
How to choose the right sensor for your project?
We have 17 sensor series, 200+ categories, and 300+ detection objects for gas detection. Such as CO, CO2, VOC, PM2.5, CH4, LPG and so on. In particular, we also have MEMS sensors. According to your industry application, gas principle, power consumption, accuracy, and range requirements, and we can select a specific model for you. You can also use the product filter below to choose a suitable product, or choose online serivce.
Here you can learn about the selection guide, common technical problems, packaging, transportation, MOQ, delivery time, etc.
Factory or Trade Company?
Winsen is a factory with over 30,000 square meters area and 500+ production machines which is focusing on sensors development&manufacturing. It has strong R&D strength with more than 100 R&D personnel.