MEMS Sensor WPAS02
---
Summary:
The WPAS02 series is a plastic-encapsulated pressure sensor packaged with high-precision MEMS pressure-sensitive chips and mature production processes. The standard pin structure is convenient for customers to use, and at the same time, it provides OEM customers with low-cost plastic-encapsulated pressure sensor solutions. WPAS02 series plastic packaged pressure sensors are only suitable for dry and non-corrosive gases. Different ranges and output methods can be customized according to customer requirements.
Feature:
* Package form: SOP6
* Wide operating temperature range: -20℃~80℃
* Not temperature compensated
* Suitable for module assembly
* High precision at room temperature: ±0.3%FS
* Low cost and small size
* High reliability
---
APPLICATION
The combustion gas used in the city is supplied to urban residents from the gas source point through the gas distribution and supply system. The main component of the gas distribution system is the gas pipeline. Compared with other pipelines, the tightness of gas pipelines has particularly strict requirements,
Didn't Find Your Tarket Application?
Winsen offers tailor-made gas sensor solutions for your industry
Contact us
---
PARAMETER
Specification
Product Size
Technical Data Sheet
Technical indicators
Measuring range
10kPa~100kPa
Pressure type
Gauge
Voltage
5V
Input resistance
4kΩ~6KΩ
Electrical connections
pin
Operating temperature
-20℃~80℃
Storage temperature
-55℃~150℃
Response time
≤1ms(Up to 90%FS)
Measuring medium
Dry and non-corrosive gas
Mechanical vibration
20g(20~5000HZ)
Impact
100g(10ms)
Service life
10×106 (pressure cycle)
Basic parameter indicators
Item
Condition
Min
Typical
Max
Unit
Remark
Nonlinear
-0.5
-
0.5
%FS
The BFSL least squares method was used.
Hysteresis
-0.05
±0.03
0.05
%FS
Repeatability
-0.08
±0.03
0.08
%FS
Zero output
-40
-
+40
mV
Full scale output
60
100
150
mV
Excludes full scale output for unconventional scale products.
Zero temperature coefficient
-0.15
-
0.15
%FS/℃
Full scale temperature coefficient
-0.06
-
-0.06
%FS/℃
Thermal hysteresis
-0.075
±0.05
0.075
%FS
After high and low temperature, return to the reference temperature.
Long term stability
-0.3
±0.2
0.3
%FS/yr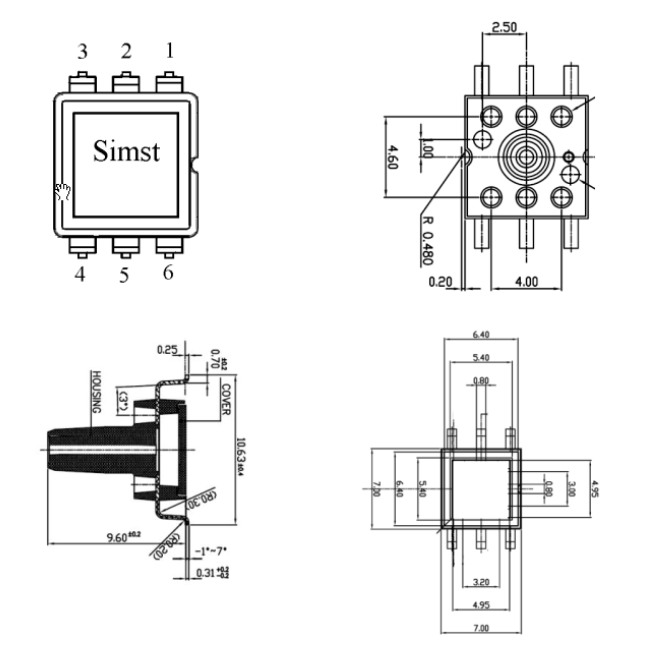 Free Guide! Learn the Parameter Differences of Similar Sensors
Wondering how to find the most suitable one for you out of so many sensors? Download our free guide to learn the comparison table of technical parameters.
DOWNLOAD GUIDE
RELATED PRODUCTS
As a pioneer in gas sensor based solutions with the advanced processes, technologies and products, Winsen offers a wide range of gas sensors:
RELATED PRODUCTS
As a pioneer in gas sensor based solutions with the advanced processes, technologies and products, Winsen offers a wide range of gas sensors:
WHY CHOOSE WINSEN
Professional and Trustworthy
Brand Precipitation
Focus on Sensor Field
National Patents
International Advanced Technology
Detection Objects
More Than 300 Kinds
---
Production Process
Excellence Products
Provide 60+ Countries with Solutions
Serve the Global Market
Cooperate with 300+ well-known Enterprises
More Customer's Choice
How to choose the right sensor for your project?
We have 17 sensor series, 200+ categories, and 300+ detection objects for gas detection. Such as CO, CO2, VOC, PM2.5, CH4, LPG and so on. In particular, we also have MEMS sensors. According to your industry application, gas principle, power consumption, accuracy, and range requirements, and we can select a specific model for you. You can also use the product filter below to choose a suitable product, or choose online serivce.
Here you can learn about the selection guide, common technical problems, packaging, transportation, MOQ, delivery time, etc.
Factory or Trade Company?
Winsen is a factory with over 30,000 square meters area and 500+ production machines which is focusing on sensors development&manufacturing. It has strong R&D strength with more than 100 R&D personnel.
What is your warranty term?
The warranty period is one year from the date of shipment. If the appearance of the product is not damaged, it can be returned after confirmation. For damage not caused by Winsen, the customer shall bear all maintenance costs.