NDIR Methane Sensor MH-441D
---
Summary:
MH-441D methane gas sensor is a general intelligent infrared gas sensor, which uses the principle of non-dispersive infrared (NDIR) to detect methane gas in the air, MH-411D has the advantages of no oxygen dependence and good selectivity. MH-441D is a compact and high-performance sensor that combines the mature infrared absorption gas detection technology with micro-machining and sophisticated circuit design. It is easy to use, can be directly used to replace catalytic combustion elements, and is widely used in various occasions where methane and explosive gases are present.
Feature:
* High sensitivity, high resolution, low power consumption, Fast response time
* Output method: UART, analog voltage signal
* Temperature compensation, excellent linear output
* Excellent stability and long service life
* Anti-water vapor interference, no poisoning, can directly replace the catalytic combustion sensor
Didn't Find Your Tarket Application?
Winsen offers tailor-made gas sensor solutions for your industry
Contact us
---
PARAMETER
Specification
Product Size
Technical Data Sheet
Model No.
MH-441D
Detection Gas
Methane (CH4)
Working Voltage
3.6~5.0VDC (Need to be powered by safety barrier)
Average Current
<85mA
Interface Level
3.0V
Detection range
0~10%vol(selectable, refer fig2.)
Output Signal
UART(3.0V)
0.4~2.0VDC
Warm-up time
3 min
Response time
T90<30 seconds
Working Temperature
-20°C ~ 60°C
Working Humidity
0~95%RH (no condensation)
Sizes
Φ20×22.2mm
Weight
35g
Lifetime
>5 years
Defense Grade
IP54
Power, communication terminal Intrinsic safety
Ui=7.5VDC,Ii=265mA,
Pi=0.5W,Ci=10μF,Li=0mH
Detection range and accuracy
Detection Gas
Formula
Detection Range
Resolution
Decimal place
Notes
Methane
CH4
0~5.00% Vol
0.01% Vol
2 decimal places
Temperature compensation
0~10.00% Vol
2 decimal places
100%LEL
1%LEL
None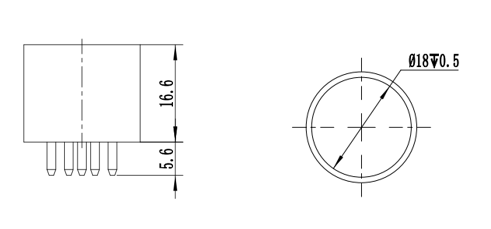 Free Guide! Learn the Parameter Differences of Similar Sensors
Wondering how to find the most suitable one for you out of so many sensors? Download our free guide to learn the comparison table of technical parameters.
DOWNLOAD GUIDE
RELATED PRODUCTS
As a pioneer in gas sensor based solutions with the advanced processes, technologies and products, Winsen offers a wide range of gas sensors:
RELATED PRODUCTS
As a pioneer in gas sensor based solutions with the advanced processes, technologies and products, Winsen offers a wide range of gas sensors:
WHY CHOOSE WINSEN
Professional and Trustworthy
Brand Precipitation
Focus on Sensor Field
National Patents
International Advanced Technology
Detection Objects
More Than 300 Kinds
---
Production Process
Excellence Products
Provide 60+ Countries with Solutions
Serve the Global Market
Cooperate with 300+ well-known Enterprises
More Customer's Choice
How to choose the right sensor for your project?
We have 17 sensor series, 200+ categories, and 300+ detection objects for gas detection. Such as CO, CO2, VOC, PM2.5, CH4, LPG and so on. In particular, we also have MEMS sensors. According to your industry application, gas principle, power consumption, accuracy, and range requirements, and we can select a specific model for you. You can also use the product filter below to choose a suitable product, or choose online serivce.
Here you can learn about the selection guide, common technical problems, packaging, transportation, MOQ, delivery time, etc.
What is the Service Life of Mq Series Sensors?
Usually, the life span is about ten years, and the actual application is related to the use environment and method of use.
Why Does the Sensitivity of the Semiconductor Sensor Reduce During Use?
There are five main reasons: 1) Organosilicon, sulfide, phosphide, chlorine (fluorine) compound, alkali metal, etc. will poison the sensor; 2) The power supply voltage of the sensor has changed; 3) The sensor has been used for too long (Exceeded service life); 4) The test gas concentration is too high; 5) The sensor is subjected to severe vibration or destructive external conditions.
Can the Catalytic Sensor Be Made into a Digital Display?
MC series catalytic products have good linearity and can be made into digital display products.