Analysis of the characteristics of different refrigerant detection principles
Apr 11,2023
---
Characteristics of NDIR sensors and semiconductor sensors
The NDIR sensor measures the infrared rays absorbed by the gas, while the semiconductor sensor measures the change in resistance value caused by the redox reaction between the gas and the semiconductor. The detection principle is different, and the product characteristics are different.
The NDIR sensor has a built-in light source, which emits a certain amount of light and transmits it to the photosensitive element. Combustible gases entering the interior of the sensor are exposed to light. Combustible gas has the characteristic of absorbing light of a specific wavelength, and the photosensitive element can detect the light that is attenuated due to absorption. Calculate the concentration of combustible gas according to the degree of light attenuation. The NDIR type sensor has high gas selectivity, does not respond to gases other than combustible gases, and has high detection accuracy.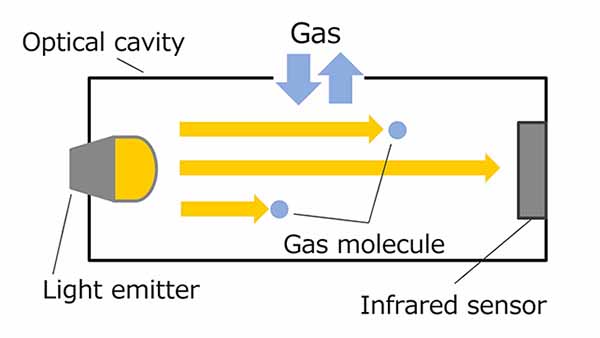 NDIR principle
Semiconductor-based sensors increase sensitivity by heating the gas-reactive material to detect its chemical reaction with combustible gases. If the air humidity changes, the detection results of the semiconductor sensor will also be affected, so the measurement accuracy of the semiconductor sensor needs to be considered. The limitation of semiconductor sensing is gas selectivity, which cannot detect a specific target gas.
Due to the difference in characteristics, the number of air conditioner manufacturers using the NDIR method has gradually increased in recent years.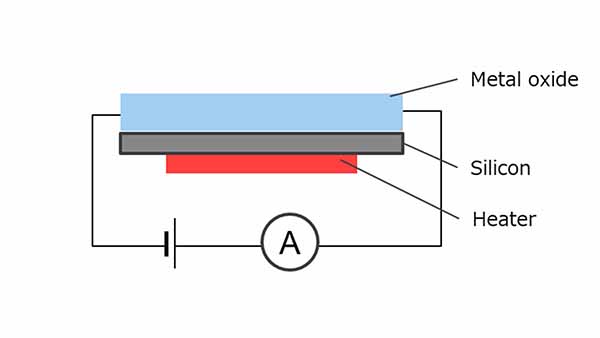 Semiconductor principle
Analysis of the characteristics of different refrigerant detection principles

Detection principle

Semiconductors

Thermal Conductivity

Infrared

Detection range

100-10000ppm

10000ppm-100%VOL

0-5%VOL

Response characteristics

12s

3s

30s

Linearity

Non-linear, high sensitivity at low concentration, relatively saturated after high concentration (10000ppm)

Linearity 8%, low sensitivity

Output linear, high sensitivity

Average life expectancy

5 years

10 years

15 years

High concentration shock characteristics

Sensitivity attenuation is severe and cannot be recovered in a short time

Sensitivity without attenuation

Sensitivity without attenuation

High concentration immersion characteristics

Increase in zero point, decrease in sensitivity

Sensitivity without attenuation and damageSensitivity without attenuation and damage

Repeatability - low concentration (5000ppm)

Repeatability deviation within ±1%LEL

Repeatability deviation within ±16LEL

Repeatability - high concentration (10000ppm\36000ppm)

10000ppn repeatability deviation within ±39LEI; 36000ppm repeatability deviation within ±7%LEL

The repeatability deviation is within -0.6-1.2%LEL

The repeatability deviation is within ±1%LEL

Anti-alcohol properties

Low concentration to high concentration (2000-15000ppm) does not trigger false alarm

Alcohol sensitivity is higher than R32, not resistant to alcohol

/

Selectivity

Weak selectivity and relatively high sensitivity to target gases

No selectivity, large influence of interfering gases

Strong selectivity

Oxygen dependence

Need to test in an aerobic environment

No oxygen dependence

Feature summary

1. It can detect low concentration and high concentration linear saturation
2. High concentration immersion, shock sensitivity attenuation
3. Good anti-interference performance
4. Weak selectivity and high sensitivity to target gas
5. Short lifespan
1. Only high concentration can be detected, pure gas can be detected, and the output is linear
2. Low sensitivity
3. High-concentration immersion and impact have no effect, and the sensitivity has no attenuation
4. No selectivity, weak anti-interference ability
5. Long life, no oxygen dependence
1. Slow response time
2. Long life, no oxygen dependence
3. The output is linear, the selectivity is strong, and the repeatability is good
4. High-concentration immersion and impact have no effect, and the sensitivity has no attenuation

Advantage analysis

1. Good anti-interference performance
2. Can detect low concentration
3. Good repeatability at low concentration
1. Good output linearity
2. Good repeatability
3. High-concentration immersion and impact have no effect, and the sensitivity has no attenuation
4. Long life, no oxygen dependence
5. Fast response time
1. Long life
2. Strong selectivity
3. The output is linear and repeatable
4. No oxygen dependence
5. High-concentration immersion and impact have no effect, and the sensitivity has no attenuation