Indoor Air Quality Monitoring
Indoor pollution is more serious than outdoor
The World Health Organization's "Indoor Air Pollution and Health" pointed out that the current level of indoor air pollution is 5-10 times higher than outdoor pollution, and 4% of global diseases are related to indoor air quality, and about 2 million people die prematurely each year from diseases caused by indoor air pollution.Nearly half of the world's people are exposed to indoor air pollution, which has become one of the top ten threats to human health.
Generally speaking, according to the characteristics of pollutants, we can divide indoor air pollutants into biological pollution, physical pollution and chemical pollution.
1. Biological pollution
There are many sources of biological pollutants in the air, for example: allergenic substances such as pollen, dust mites, animal dander.
Our or pet hair and dander can easily appear on the seemingly clean carpets, sofas, and bedding in your home. If not cleaned in time, it will breed the dust mites.
In addition, bacteria are also typical biological contamination; we all know that humid environment is easy to breed bacteria. Home bathrooms, kitchens, shaded balconies are actually places where bacteria like to grow. Not only do these bacteria stick to surfaces, but as the indoor air moves, some are also spread throughout the air in the room.

2. Physical pollution
Physical pollution in household air usually refers to particulate pollution, such as dust, smog and droplets, of which the most widely known is PM2.5.
PM2.5 sensor (ZH07 ) has good consistency, real-time response, accurate data, low power consumption, and the minimum resolution particle diameter is 0.3μm

3. Chemical pollution
Mainly refers to formaldehyde. Formaldehyde is not limited to new houses. In addition to decoration, there are also waterproof floor mats, children's anti-collision cushions, tables and chairs, sofa fabrics, textiles, and even food preservatives.
Even if it's not a new house, many wood-based panels will slowly release formaldehyde for 3 to 15 years after renovation. Especially in a room with heating or air conditioning, as the temperature in the room increases, formaldehyde is more likely to volatilize. If the windows are not opened frequently, the indoor air environment at this time is very unfavorable for us.
Winsen formaldehyde sensor module (ZE08K-CH20) protects your living environment from formaldehyde pollution day and night. It has low power consumption, high precision, and excellent linear output, which is specially used for indoor formaldehyde detection.
Particulate matter and formaldehyde are the most important pollutants in indoor air pollution, they not only affect our respiratory health, but also cause bronchitis and other lung diseases. As people pay more and more attention to health, many people will choose fresh air systems or air purification equipment to reduce indoor air pollution.
General air purification equipment mainly uses PM2.5 sensors and formaldehyde sensors to detect the concentration of indoor dust and formaldehyde. Once abnormal changes in concentration are monitored, air purification will start to work. Therefore, the quality of the sensor directly affects the final air quality detection value, which plays a crucial role in control.

Indoor carbon dioxide pollution that cannot be ignored
When summer arrives, in order to cool down, many people will stay in air-conditioned rooms with doors and windows closed. After a long stay. There is a feeling of suffocation and drowsiness, which is an "adverse reaction" caused by the high concentration of carbon dioxide in the room.
After sleeping in an air-conditioned room with doors and windows closed for one night, the carbon dioxide in the room exceeded 3000ppm in the morning. 8 times as much as indoors.
According to the "Indoor Air Quality Standards", the daily average of carbon dioxide should not exceed 0.1%, and the concentration of carbon dioxide should always be lower than 1000ppm. If there are many people gathered indoors and the air is not ventilated, the oxygen content in the air will gradually decrease, and a large amount of carbon dioxide will be produced at the same time, and the indoor people will have different degrees of poisoning symptoms. High carbon dioxide levels can directly lead to poor sleep quality, malnutrition, and delayed development of infants and young children.
Using Winsen CO2 sensor to improve indoor air quality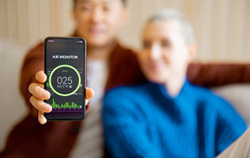 First of all, to prevent carbon dioxide from exceeding the standard, we need to know the amount of carbon dioxide in the environment. In a crowded room, it is necessary to monitor the carbon dioxide concentration in real time, and then take corresponding ventilation measures according to the monitoring results. The monitoring equipment is realized by the CO2 sensor.
In the smart home, the ventilation system can already be automatically controlled by the built-in CO2 sensor. Once the indoor carbon dioxide content exceeds the standard, the fresh air system can be turned on, exhaust indoor dirty air and introduce filtered outdoor fresh air to maintain good indoor air quality at all times.

Winsen MH-Z19C infrared CO2 sensor air chamber is gold-plated, waterproof and anti-corrosion. With its good selectivity, no oxygen dependence, anti-interference, it is widely used in air quality monitoring, fresh air system, air purification equipment, smart home, etc.
Air quality

Air quality sensor module
CO2 sensor
Formaldehyde sensor
Temperature and humidity sensor
Dust sensor
VOC
How to choose the right sensor for your project?
We have 17 sensor series, 200+ categories, and 300+ detection objects for gas detection. Such as CO, CO2, VOC, PM2.5, CH4, LPG and so on. In particular, we also have MEMS sensors. According to your industry application, gas principle, power consumption, accuracy, and range requirements, and we can select a specific model for you. You can also use the product filter below to choose a suitable product, or choose online serivce.
The first six FAQs. Use the search bar above to reveal more!
Is the Dust Sensor Wired when Shipped?
Can Wave Soldering Be Used for Semiconductor Sensors?
Yes, but you need to pay attention to the following points: 1. Use rosin flux with the least chlorine; 2. Speed: 1-2m/min; 3. Preheating temperature: 100±20℃; 4. Soldering temperature: 250±10℃;
All the Mc Series Products Measure Combustible Gas, What is the Difference?
MC series products are different in power supply voltage and current, their appearance and structure are also different; in addition, they are divided into two types: domestic and industrial. Industrial products require explosion-proof and the shell should be the explosion-proof structure of metallurgical powder mesh. The MC100 series is mainly used for domestic use, and the MC110 series is mainly used for industry.