Petrochemical Industry Toxic Gas Monitoring
The energy provided by the petrochemical industry is mainly used as fuel for automobiles, tractors, airplanes, ships and boilers. At the same time, refinery enterprises provide various chemical raw materials for the chemical industry, and flammable gas also enters thousands of households. The petrochemical industry has entered every industry. The industry mainly includes exploration, mining, smelting and chemical processing, storage, transportation and other parts.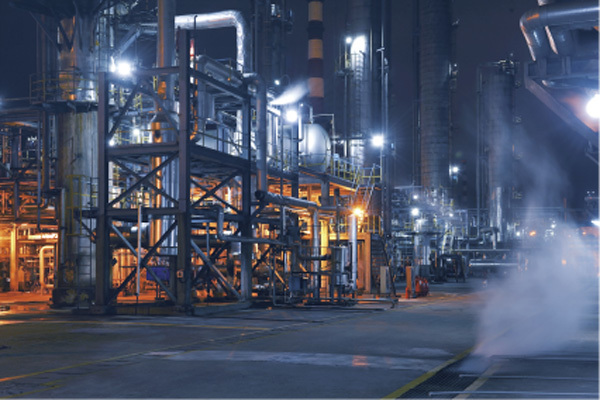 In order to ensure the safety of production, processing, transportation and use, it is necessary to detect and monitor the gas pressure, flammable gas leakage, explosion proof, and various toxic leakage in each processing.
Application occasions of toxic gas monitoring:
According to relevant industry and national standards, gas detection applications in the petrochemical industry are mainly concentrated in the following areas:
1. Flammable gas detection alarms should be installed in the following places:
Oil pump room, metering room, oily sewage pump room, valve group room, and dehydrator operation room of the crude oil transfer station;
Compressor room, metering room, valve group room, receiving and dispatching ball room for natural gas transmission;
Compressor room, metering room, valve group room, receiving and dispatching ball room, storage tank area, loading and unloading facilities of light hydrocarbon system;
Pump room, metering room, valve group room, storage tank area, loading and unloading facilities for condensate oil and gasoline;
LPG pump room, bottling (filling) room, metering room, gas cylinder warehouse and storage tank area;
Crude oil settling tank operation room, crude oil storage tank area;
Oily sewage tank farm.
2. "Petroleum Industry Fire Safety Regulations" SY/T5858-2004 also clearly stipulates:
All storage tanks, containers and other equipment that need fire should analyze the internal and surrounding environment gas. The gas analysis should include the detection of flammable gas concentration, toxic and harmful gas detection, oxygen and nitrogen concentration detection and analysis.
During fire construction, the concentration of flammable gas in the fire spot and the air in the operating area should be lower than 25% of its lower explosion limit. If adopt coercive ventilation measures, the wind direction should be consistent with the natural wind direction.
During the whole process of fire construction, the fire guard should track and detect the concentration of flammable gas.
Gas testing and re-examination of fire should be carried out when entering equipment, facilities and oil tanks, People can enter only after passing the test.
At present, the method of gas detection and analysis is widely used to control toxic gases in the oil production process. Among them, the most used gas sensors are CO sensor, H2S sensor, SO2 sensor and other gas sensor, which are widely used in the form of independent portable detectors, gas detection systems, and smoke analysis systems in the process of petrochemical production. An average of about 20 pieces gas sensors are required for every 10,000 tons of refined oil production. Based on the current annual output of 220 million tons of refined oil, the annual demand for gas sensors is about 500,000 pieces.
Toxic gases such as CO, SO2, H2S, ammonia, ethylene oxide, propylene, vinyl chloride, acetylene, and organic vapors such as benzene, aldehydes, and ketones need to be detected throughout the production, processing, transportation, and use processes, requiring a large amount of gas. A large number of gas sensors are required for safety protection to prevent poisoning and explosion accidents.
Mainly methods for gas detection in the petrochemical industry:
1. Flammable gas
Flammable gas is mainly detected by catalytic elements, mainly measuring 100% LEL, and also using thermal conductivity components to measure 100% VOL. High-end gas detection products in the petrochemical industry are gradually using infrared gas sensors, which can measure 100% LEL and 100% VOL. At the same time, laser beam technology is also gradually being used in the petrochemical industry.
2. Oxygen and toxic gas
Mainly use electrochemical gas sensors, which can measure various toxic gases and oxygen. Infrared and ultraviolet sensors are also gradually applied in the detection of special toxic gases.
Industry

How to choose the right sensor for your project?
We have 17 sensor series, 200+ categories, and 300+ detection objects for gas detection. Such as CO, CO2, VOC, PM2.5, CH4, LPG and so on. In particular, we also have MEMS sensors. According to your industry application, gas principle, power consumption, accuracy, and range requirements, and we can select a specific model for you. You can also use the product filter below to choose a suitable product, or choose online serivce.
The first six FAQs. Use the search bar above to reveal more!
Is the Dust Sensor Wired when Shipped?
How to Install and Place the Infrared Dust Sensor?
It must be installed vertically. Keep away from artificial air flow such as fans. When used in air purifiers, the front and rear of the fan cannot be installed. Optionally install it on one side of the shell, but keep vents on the shell to ensure that the external air can diffuse in.
Can the Two Voltages of Mq-7 Exist All the Time, or Do They Need to Be Powered Alternately? if It is an Alternate Power Supply, What is the Appropriate Power Supply Time?
It requires alternate power supply. Please check the information on the product manual. This sensor is powered by 1.5V and 5V alternately. The low temperature and low voltage (1.5V) state can detect CO, and the high voltage (5V) is the desorption process. The recommended 5V voltage duration is 60s, 1.5V voltage duration is 90s to alternately supply power. Since it is a desorption process at 5V, it is normal for the voltage to drop when CO is 150ppm.