Industrial Exhaust Monitoring
Industrial waste gas refers to the general term for various pollutant-containing gases discharged into the air generated during the fuel combustion and production process in the factory area of the enterprise. These gases enter the human body through the respiratory tract through different routes, some directly cause harm, and some have an accumulation effect, which will seriously endanger human health.
In terms of form, industrial waste gas can be divided into particulate waste gas and gaseous waste gas. Particulate waste gas pollutants are mainly polluting smoke and dust generated in the production process, and their sources mainly include cement plants, heavy industrial material production plants, heavy metal manufacturing plants and chemical plants. Gaseous waste gas mainly includes nitrogen-containing organic waste gas, sulfur-containing waste gas and hydrocarbon organic waste gas. They are the most diverse and most harmful industrial waste gases. Common exhaust gases include carbon dioxide, sulfur dioxide, hydrogen sulfide, fluoride, nitrogen oxides, chlorine, hydrogen chloride, carbon monoxide, sulfuric acid (fog), lead, mercury, smoke and dust.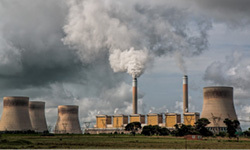 With the rapid development of industrial production and enterprises, industrial waste gas pollution has become a very prominent environmental problem. According to the Air Pollution Prevention and Control Law, industrial waste gas must be pretreated, and only after reaching the national waste gas emission standards can external emissions be allowed. Industrial waste gas purification is a work that specifically pretreats waste gas generated in factories, workshops and other industrial places, and then discharges it to meet the national waste gas emission standards. The purified exhaust gas also need to be tested to ensure that the exhaust gas complies with emission standards.
Industrial waste gas contains a large number of gas components. When monitoring various gases in complex gases, it is suitable to using detection instrument that can monitor multiple gases at the same time, or install corresponding gas sensors, such as NO2 sensor, SO2 sensor etc., They can also be used directly on industrial exhaust gas detectors.
Winsen provides ME4-SO2-E4 SO2 sensor for industrial waste gas detection, which is a constant potential electrolytic SO2 sensor. A redox reaction occurs between the working electrode and the opposite electrode of SO2 and O2,then charges are released to form an electric current,the current is proportional to the SO2 concentration. The SO2 concentration can be determined by testing the current. The fourth electrode of the SO2 sensor, the auxiliary electrode, is used to compensate the zero-point current, so that it has the characteristics of strong signal level and low zero-point current. ME4-SO2-E4 sensor has short response time and strong anti-interference ability. It is widely used in urban atmospheric environment monitoring, enterprise environmental monitoring, emission pollution gas monitoring in factories, emergency monitoring and environmental evaluation and monitoring.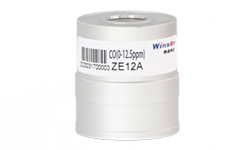 ▲ZE12A atmospheric monitoring module
ZE12A general module which is an atmospheric monitoring gas module designed and manufactured by closely combining mature electrochemical detection technology with sophisticated circuit design. The ZE12A module has excellent performance in terms of sensitivity, resolution, power consumption, and anti-interference ability. Using the electrochemical principle to detect CO, SO2, NO2, O3 and other gases in the air, it has good selectivity and stability.
Industry

How to choose the right sensor for your project?
We have 17 sensor series, 200+ categories, and 300+ detection objects for gas detection. Such as CO, CO2, VOC, PM2.5, CH4, LPG and so on. In particular, we also have MEMS sensors. According to your industry application, gas principle, power consumption, accuracy, and range requirements, and we can select a specific model for you. You can also use the product filter below to choose a suitable product, or choose online serivce.
The first six FAQs. Use the search bar above to reveal more!
What is the Difference Between Semiconductor Sensors and Electrochemical Sensors?
There is no good linear correspondence between the gas concentration and voltage of the semiconductor sensor, and it is generally only used for fixed-point calibration products; there is a good linear correspondence between the gas concentration and the output current of the electrochemical sensor, and can be made into quantitative detection products.
What Are the Precautions for Manual Soldering of Semiconductor Sensors?
1. Flux: rosin flux with the least chlorine; 2. Constant temperature soldering iron; 3. Temperature: 250℃; 4. Time: no more than 3 seconds.
Can Wave Soldering Be Used for Semiconductor Sensors?
Yes, but you need to pay attention to the following points: 1. Use rosin flux with the least chlorine; 2. Speed: 1-2m/min; 3. Preheating temperature: 100±20℃; 4. Soldering temperature: 250±10℃;