Forehead Thermometer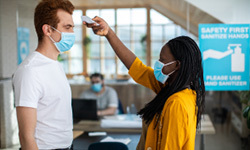 Due to the impact of the Covid epidemic, household body temperature products have been widely used. The forehead thermometer has ushered in vigorous development under the background of epidemic. At present, the shortage of infrared thermometers is about 60,000 units, and the shortage of handheld infrared thermometers is about 550,000 units in Chinese market. There is a great challenge for infrared temperature sensor companies, and it is also an explosive opportunity.
Forehead thermometer (infrared thermometer) is a temperature measuring instrument used to measure human forehead temperature. It is very simple and convenient to use, accurate temperature measurement in 1 second, no laser point, avoid potential damage to eyes, no need to touch human skin, avoid cross infection, one-click temperature measurement to check epidemic. It is suitable for home users, hotels, libraries, large enterprises and institutions, and can also be used in comprehensive places such as hospitals, schools, customs, airports, etc., and can also be provided for medical personnel to use in clinics. It has become one of the mainstream body temperature measurement products.
The thermopile sensor is the core component of the forehead temperature. Winsen thermopile sensor has the characteristics of high cost performance, long service life, fast response speed and high precision. The NTC chip helps the infrared thermopile sensor to obtain more accurate measurement data during temperature monitoring.
Health care

How to choose the right sensor for your project?
We have 17 sensor series, 200+ categories, and 300+ detection objects for gas detection. Such as CO, CO2, VOC, PM2.5, CH4, LPG and so on. In particular, we also have MEMS sensors. According to your industry application, gas principle, power consumption, accuracy, and range requirements, and we can select a specific model for you. You can also use the product filter below to choose a suitable product, or choose online serivce.
The first six FAQs. Use the search bar above to reveal more!
Can the Two Voltages of Mq-7 Exist All the Time, or Do They Need to Be Powered Alternately? if It is an Alternate Power Supply, What is the Appropriate Power Supply Time?
It requires alternate power supply. Please check the information on the product manual. This sensor is powered by 1.5V and 5V alternately. The low temperature and low voltage (1.5V) state can detect CO, and the high voltage (5V) is the desorption process. The recommended 5V voltage duration is 60s, 1.5V voltage duration is 90s to alternately supply power. Since it is a desorption process at 5V, it is normal for the voltage to drop when CO is 150ppm.
What is the Difference Between Semiconductor Sensors and Electrochemical Sensors?
There is no good linear correspondence between the gas concentration and voltage of the semiconductor sensor, and it is generally only used for fixed-point calibration products; there is a good linear correspondence between the gas concentration and the output current of the electrochemical sensor, and can be made into quantitative detection products.
What Are the Precautions for Manual Soldering of Semiconductor Sensors?
1. Flux: rosin flux with the least chlorine; 2. Constant temperature soldering iron; 3. Temperature: 250℃; 4. Time: no more than 3 seconds.