Air Purifier
Winsen is a world-renowned gas sensor manufacturer and supplier. A variety of sensors are intelligently combined and developed to form the overall concept of the module. The extremely flexible assembly combination can meet the sensitivity, corresponding speed, stability, power consumption and size requirements of all air purifiers on the market.
Air purifier: the guarantee of clean air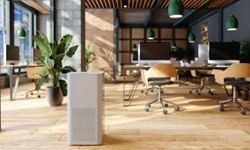 Air purifiers are used in home, medical, and industrial fields. The main function is to remove particulate matter in the air, including allergens, indoor PM2.5, etc. At the same time, it can also solve the air pollution problem of indoor, underground space, and volatile organic compounds in cars caused by decoration or other reasons.
There is smog in winter, and TVOC in summer, people are often used to closing doors and windows and turning on air conditioners in summer and winter, which makes it harder to reduce indoor pollutants. Therefore, if you stay in an air-conditioned room for a long time, you will often feel dry in mouth and nose, probably even itchy throat, mild cold symptoms, and get various respiratory diseases in severe cases, so the use of air purifiers is particularly important.
Basic requirements--high sensitivity and fast response
▲ Example diagram of installing
the air quality sensor MP503
in the purifier control panel
MP503,the planar semiconductor gas sensor is highly sensitive to smoke and formaldehyde, and has the characteristics of fast response and recovery, low power consumption, simple detection circuit, good stability, and long life.

Modular design: closely related in product development and industrialization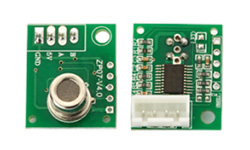 ▲ ZP07 air quality module
ZP07 air quality module made of MP503 gas sensor, adopts advanced chip thick film semiconductor gas sensor. The sensor has extremely high sensitivity to organic volatile gases such as formaldehyde, benzene, carbon monoxide, ammonia, hydrogen, alcohol, cigarette smoke and essence, has almost become an exclusive product in the air purification industry. It has been calibrated at the factory, it has the characteristics of sensor fault self-diagnosis, simple high and low level output, saves a lot of time and cost of circuit development for customers, and it has become the mainstream TVOC detection product in the market.
Why Winsen has so many dust sensors(PM1.0/PM2.5/PM10)?
The mold of the purifier is relatively complex, and the internal structure requirements are high. The position of the dust sensor in the purifier determines the effect of the purifier on dust induction to a certain extent, especially our precise control of the airflow design direction. Winsen's flexible and diverse dust sensors are upgraded several times every year to meet the different customization requirements of various purifier manufacturers. Popular products are ZH06, ZH07, ZH09.etc.
Among the air pollutants, the most harmful to humans is the fine particulate matter with a diameter of less than 2.5 microns (ie PM2.5, medically called particulate matter that can enter the lungs). And our dust sensor has a minimum resolution particle diameter of 0.3μm, which is completely suitable for mid-to-high-end air purifiers.
Formaldehyde detection: popular combination on air purifiers
The release period of indoor formaldehyde is generally 3-15 years. Short-term ventilation cannot completely remove indoor formaldehyde. The degree of harm of formaldehyde to the human body:
When formaldehyde concentration reaches 0.06-0.07mg/m³ per, children will feel mild asthma;
When formaldehyde concentration reaches 0.1mg/m³, there will be peculiar smell and feel discomfort;
When formaldehyde concentration reaches 0.5mg/m³, it can irritate the eyes and cause tears;
When formaldehyde concentration reaches 0.6mg/m³, which can cause throat discomfort or pain. When the concentration is higher, it can cause nausea and vomiting, cough, chest distress, asthma and even pulmonary edema;
When formaldehyde concentration reaches 30mg/m³, it will immediately cause death.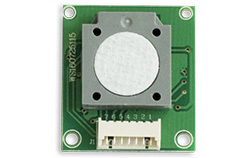 ▲ ZE08K-CH20 electrochemical
formaldehyde sensor module
For the decoration of new houses and the entry of new furniture, people are most concerned about whether there is formaldehyde pollution. When the decoration is completed, the demand for purchasing air purifiers is the highest. ZE08-CH2O electrochemical formaldehyde sensor module can well solve the problem of formaldehyde detection and enhance the competitiveness of your air purifier.
Avoid the risk of high ozone concentration in air purification
Although countless air purifier products publicize the concept of "negative oxygen ion", however, many negative oxygen ion machines will generate high concentrations of ozone when working, causing human discomfort. When the ozone concentration reaches 200 micrograms / cubic meter, it may damage to the central nervous system of the human body, as well as headaches, chest pains and a decrease in thinking ability. A certain ozone concentration is also an important indicator to ensure the disinfection effect, save energy and prevent pollution. Therefore, when using the negative ion disinfection machine, you need to pay attention to the concentration of ozone to ensure that its concentration is within the standard range,which requires the ozone sensors monitoring. The ZE25-O3 electrochemical ozone module is the best choice. The electrochemical module is easy to use and time-saving.
Smart appliance

Air quality sensor module
CO2 sensor
Formaldehyde sensor
Temperature and humidity sensor
Dust sensor
VOC
How to choose the right sensor for your project?
We have 17 sensor series, 200+ categories, and 300+ detection objects for gas detection. Such as CO, CO2, VOC, PM2.5, CH4, LPG and so on. In particular, we also have MEMS sensors. According to your industry application, gas principle, power consumption, accuracy, and range requirements, and we can select a specific model for you. You can also use the product filter below to choose a suitable product, or choose online serivce.
The first six FAQs. Use the search bar above to reveal more!
Why Does the Sensitivity of the Semiconductor Sensor Reduce During Use?
There are five main reasons: 1) Organosilicon, sulfide, phosphide, chlorine (fluorine) compound, alkali metal, etc. will poison the sensor; 2) The power supply voltage of the sensor has changed; 3) The sensor has been used for too long (Exceeded service life); 4) The test gas concentration is too high; 5) The sensor is subjected to severe vibration or destructive external conditions.
What is the Service Life of Mq Series Sensors?
Usually, the life span is about ten years, and the actual application is related to the use environment and method of use.
Can Wave Soldering Be Used for Semiconductor Sensors?
Yes, but you need to pay attention to the following points: 1. Use rosin flux with the least chlorine; 2. Speed: 1-2m/min; 3. Preheating temperature: 100±20℃; 4. Soldering temperature: 250±10℃;