Exhibition Preview-2023 sensor+test Germany 09.05-11.05
Free ticket !!! Let's take a look at what sensors Winsen brought us at THE MEASUREMENT FAIR SENSOR+TEST 2023.
May 05,2023
---
Sensor+Test 2023 will start soon!
Free ticket collection address:
Link in English: https://www.sensor-test.com/service/sensorticket.php?Fid=50514&Spr=en
and in German Language: https://www.sensor-test.com/service/sensorticket.php?Fid=50514
Exhibition name: THE MEASUREMENT FAIR SENSOR+TEST 2023
Exhibition time: 09.05. - 11.05.2023
Venue: Nürnberg Exhibition Center
Booth No.: Hall 1 Stand 1-526
Let's take a look at what sensors Winsen brought us at this exhibition.
Security sensors refer to sensors used for security and monitoring, and are widely used in households, industries, businesses, and public places. Security sensors can sense changes in the surrounding environment, such as temperature, humidity, light, sound, smoke, gas, etc., and realize monitoring and control of the environment by connecting with the security system. As people's requirements for safety are getting higher and higher, the application range and market demand of security sensors are also expanding.
Winsen safety protection sensors are classified according to the detected gas: carbon monoxide (CO), combustible gas (methane, propane, LPG, etc.), in addition, passive infrared motion detection (PIR motion sensor) is also an important component of safety protection sensors.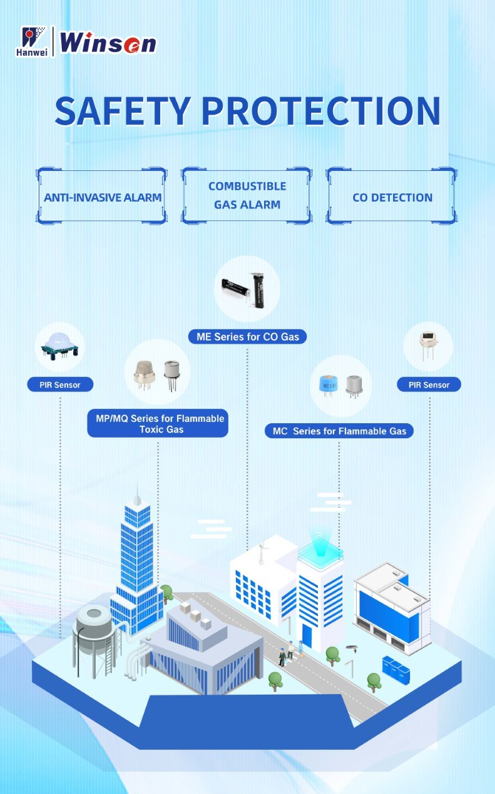 Winsen industrial sensor solutions are suitable for portable and fixed detectors and IoT systems in mines, metallurgy, power plants, chemicals, tunnels and other places. It can realize real-time monitoring and intelligent judgment and alarm for the leakage of dangerous gases (toxic and harmful gases, flammable and explosive gases) and exhaust emissions in the factory area and operating environment, which can effectively prevent the occurrence of safety accidents, ensure the safe production of enterprises and the safety of the staff.
Winsen industrial safety sensors include carbon dioxide (CO2), toxic gas, oxygen (O2),combustible gas, and PID sensors.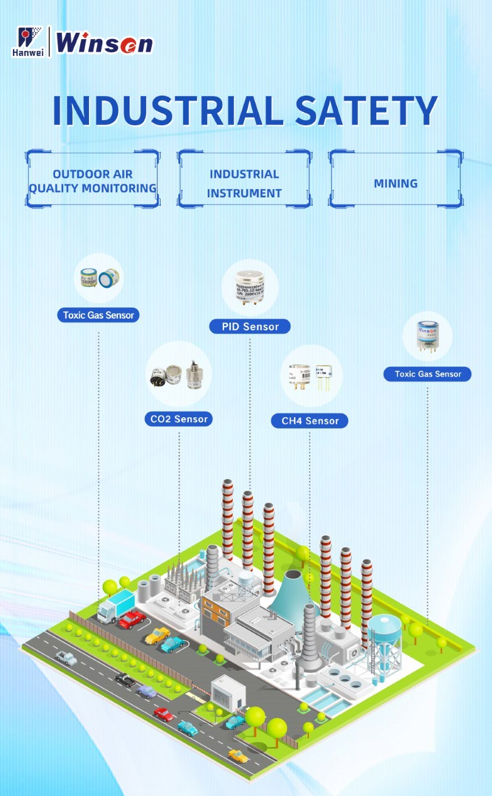 The interconnection of sensors and the Internet makes the world digital and intelligent. Remote control of home appliances, automatic ventilation of fresh air system, gas leakage alarm, automatic sensor lights, etc. are making our life more convenient. Winsen smart home and IAQ sensors are mainly used to detect and monitor environmental pollution, indoor environmental parameters and the status of home equipment, realize intelligent control and management, and protect the ecological environment.
Winsen smart home & IAQ sensors include refrigerant, carbon dioxide (CO2), ozone (O3), VOC, dust (PM2.5), formaldehyde (CH2O), temperature and humidity, human body sensing, and air quality modules.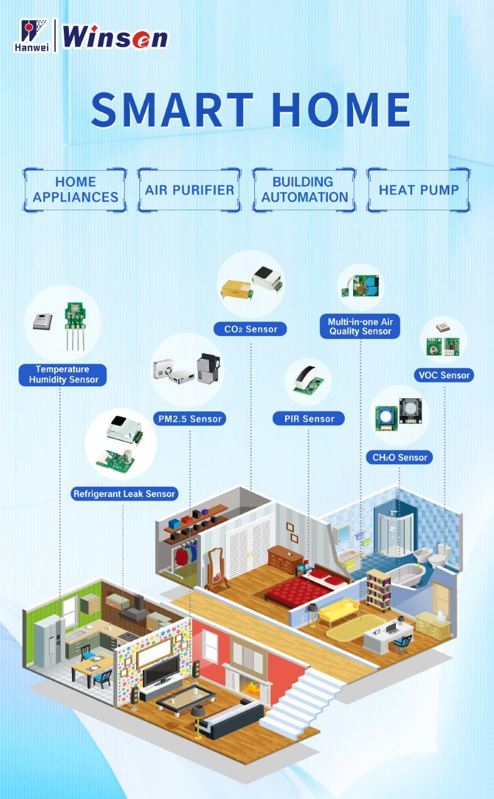 Sensors play an important role in the construction of smart cities, providing data support for urban management and public services by sensing the urban environment and population behavior. Through the establishment of urban information infrastructure, the intelligent, efficient and sustainable development of urban governance and public services can be realized. Smart city sensors are mainly used to detect the concentration of pollutants in urban air, urban water quality, smart public toilets, underground pipe corridors, and fire protection systems.
Winsen smart city sensors include carbon dioxide (CO2), alcohol(C2H5OH), flame, pressure, water quality, and atmospheric monitoring modules.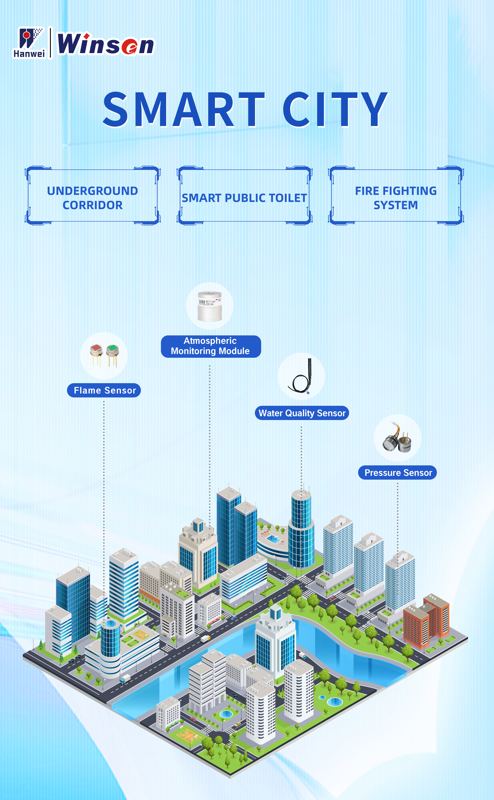 Winsen medical sensors are mainly used for the monitoring and control of medical devices and medical equipment, with the characteristics of high precision, high stability and high reliability. Widely used in hospitals, clinics and wards to help medical staff improve work efficiency and diagnosis and treatment level.
Winsen medical health sensors mainly fall into three categories: oxygen (O2), thermopile, and flow.
Automotive sensors are mainly used to detect the status and environmental parameters of various parts of the car to ensure the safety, performance and reliability of the car. Winsen vehicle sensors have high shock resistance, long life, and have vehicle-level certification. We provide health-related in-vehicle air quality monitoring, safety-related CO, hydrogen energy leakage detection, battery safety, and alcohol monitoring, etc.
Winsen automotive electronics sensors include carbon dioxide (CO2), thermal runaway, AQS, hydrogen (H2) leakage, dust (PM2.5), etc. And has reached cooperation with many automobile OEMs.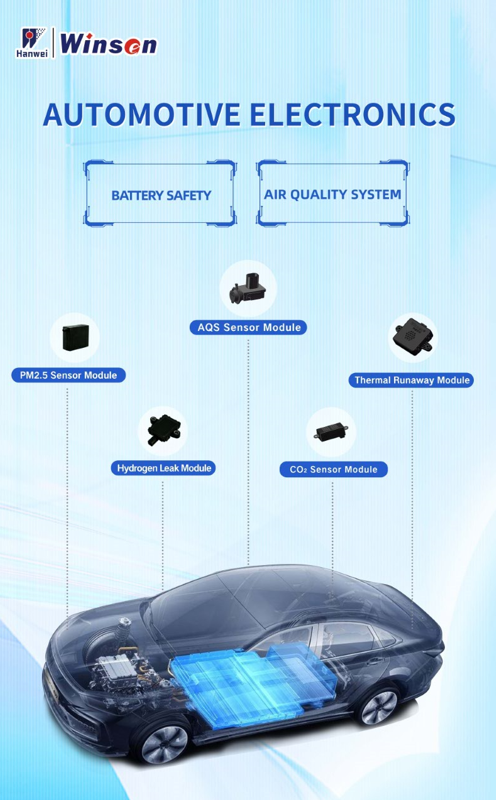 If you want to know more information, please contact: sales@winsentech.com