Flat Semiconductor Integrated Gas Sensor MP502
---
Summary:
MP502 VOC gas sensor adopts multilayer thick film manufacturing technology. The heater and metal oxide semiconductor material on the ceramic substrate of subminiature Al2O3 are fetched out by electrode down-lead, encapsulated in metal socket and cap. Conductivity of the sensor is affected by the concentration of target gas. The higher the concentration is, the higher conductivity of sensor gets. Users can adopt simple circuit to convert variation of conductivity into output signal corresponding to gas concentration.
Feature:
* High sensitivity to organic gases such as toluene, benzene, methanal
* Quick response and resume
* Low power consumption
* Simple detection circuit
* Good stability and long life
---
APPLICATION
The World Health Organization's "Indoor Air Pollution and Health" pointed out that the current level of indoor air pollution is 5-10 times higher than outdoor pollution, and 4% of global diseases are related to indoor air quality, and about 2 million people die prematurely each year from diseases caused by indoor air pollution.
Air pollution is becoming more and more serious. The value of PM2.5 (referring to particulate matter with aerodynamic equivalent diameter less than or equal to 2.5 microns in ambient air) is a parameter index.
Didn't Find Your Tarket Application?
Winsen offers tailor-made gas sensor solutions for your industry
Contact us
---
PARAMETER
Specification
Product Size
Technical Data Sheet
Model
MP502
Sensor Type
Semiconductor flat surfaced sensor
Standard Encapsulation
Metal Cap
Detection Gas
toluene, methanal, benzene,
alcohol, acetone &etc
Detection range
1~50ppm
Standard Circuit
Loop Voltage
VC
≤24V DC
Heating voltage
VH
5.0V±0.1V AC or DC
Load resistance
RL
Adjustable
Sensor features in standard test condition
Heating resistance
RH
90Ω±10Ω(Room Temp.)
Heating consumption
PH
≤300mW
Surface resistance
RS
10KΩ~100KΩ
(in 10ppm toluene)
Sensitivity
S
Rs(in air)/Rs(in 10ppm toluene)≥3
Concentration slope
α
≤0.6(R50ppm/R5ppm toluene)
Standard condition of test
Temperature, humidity
20℃±2℃;65%±5%RH
Standard test circuit
VC:5.0V±0.1V;
VH:5.0V±0.1V
Warm-up time
Over 120 hours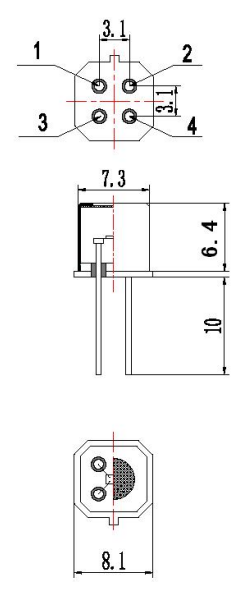 Free Guide! Learn the Parameter Differences of Similar Sensors
Wondering how to find the most suitable one for you out of so many sensors? Download our free guide to learn the comparison table of technical parameters.
DOWNLOAD GUIDE
RELATED PRODUCTS
As a pioneer in gas sensor based solutions with the advanced processes, technologies and products, Winsen offers a wide range of gas sensors:
RELATED PRODUCTS
As a pioneer in gas sensor based solutions with the advanced processes, technologies and products, Winsen offers a wide range of gas sensors:
WHY CHOOSE WINSEN
Professional and Trustworthy
Brand Precipitation
Focus on Sensor Field
National Patents
International Advanced Technology
Detection Objects
More Than 300 Kinds
---
Production Process
Excellence Products
Provide 60+ Countries with Solutions
Serve the Global Market
Cooperate with 300+ well-known Enterprises
More Customer's Choice
How to choose the right sensor for your project?
We have 17 sensor series, 200+ categories, and 300+ detection objects for gas detection. Such as CO, CO2, VOC, PM2.5, CH4, LPG and so on. In particular, we also have MEMS sensors. According to your industry application, gas principle, power consumption, accuracy, and range requirements, and we can select a specific model for you. You can also use the product filter below to choose a suitable product, or choose online serivce.
Here you can learn about the selection guide, common technical problems, packaging, transportation, MOQ, delivery time, etc.
Factory or Trade Company?
Winsen is a factory with over 30,000 square meters area and 500+ production machines which is focusing on sensors development&manufacturing. It has strong R&D strength with more than 100 R&D personnel.
What is your warranty term?
The warranty period is one year from the date of shipment. If the appearance of the product is not damaged, it can be returned after confirmation. For damage not caused by Winsen, the customer shall bear all maintenance costs.