MEMS Alcohol Sensor ZM03
---
Summary:
The digital alcohol module is a low-power, miniaturized module. The module uses a combination of a semiconductor gas sensor and a high-performance microprocessor to detect the gas concentration in the environment. The module has high sensitivity, small size and precision, and adopts I2C digital signal output mode, which is convenient for users to use and debug, and greatly shorten the user's design and development cycle. The module can be widely used in many fields such as environmental safety and portable instruments.
Feature:
* MEMS technology
* Ultra-low power consumption
* Stable and reliable
* High sensitivity
* Anti - electromagnetic interference
---
APPLICATION
Strengthen the punishment of drinking and driving in all the country to reduce the vicious traffic accidents caused by drunk driving. This involves testing a person's alcohol level and using equipment to do the testing. An alcohol detector is an effective tool for measuring the alcohol content in the human body.
Smart refrigerators are constantly innovating in the cross-border integration of different technologies. The addition of food freshness, human body induction, CO2 modules, allowing temperature control, ingredients management, automatic sterilization, intelligent alarm and other functions to continuously refresh the market for reconstructing future life style.
Didn't Find Your Tarket Application?
Winsen offers tailor-made gas sensor solutions for your industry
Contact us
---
PARAMETER
Specification
Product Size
Technical Data Sheet
| | | | |
| --- | --- | --- | --- |
| Working Voltage | 2.5±0.1V | Working Current | ≤25mA |
| Heater current | 80mW | Detect Range | 50ppm(alcohol ) |
| Output method | I2C slave mode | Default address | 0x55 |
| I2C rate | 10-100kbps | Pull-up resistor | Requires external pull-up resistor |
| Working Temperature | ≤3min | Response time | ≤60S |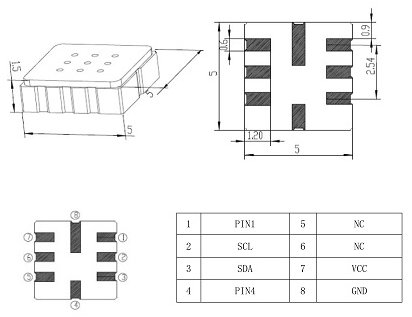 Free Guide! Learn the Parameter Differences of Similar Sensors
Wondering how to find the most suitable one for you out of so many sensors? Download our free guide to learn the comparison table of technical parameters.
DOWNLOAD GUIDE
RELATED PRODUCTS
As a pioneer in gas sensor based solutions with the advanced processes, technologies and products, Winsen offers a wide range of gas sensors:
RELATED PRODUCTS
As a pioneer in gas sensor based solutions with the advanced processes, technologies and products, Winsen offers a wide range of gas sensors:
WHY CHOOSE WINSEN
Professional and Trustworthy
Brand Precipitation
Focus on Sensor Field
National Patents
International Advanced Technology
Detection Objects
More Than 300 Kinds
---
Production Process
Excellence Products
Provide 60+ Countries with Solutions
Serve the Global Market
Cooperate with 300+ well-known Enterprises
More Customer's Choice
How to choose the right sensor for your project?
We have 17 sensor series, 200+ categories, and 300+ detection objects for gas detection. Such as CO, CO2, VOC, PM2.5, CH4, LPG and so on. In particular, we also have MEMS sensors. According to your industry application, gas principle, power consumption, accuracy, and range requirements, and we can select a specific model for you. You can also use the product filter below to choose a suitable product, or choose online serivce.
Here you can learn about the selection guide, common technical problems, packaging, transportation, MOQ, delivery time, etc.
All the Mc Series Products Measure Combustible Gas, What is the Difference?
MC series products are different in power supply voltage and current, their appearance and structure are also different; in addition, they are divided into two types: domestic and industrial. Industrial products require explosion-proof and the shell should be the explosion-proof structure of metallurgical powder mesh. The MC100 series is mainly used for domestic use, and the MC110 series is mainly used for industry.
What is the Reason for the Early Warning of the Catalytic Sensor?
The sensor has a long cooling time and insufficient aging. The test conditions and environmental conditions for inspection and calibration are different. The vibration during use causes the zero point changing. It is activated by high-concentration gas during use, then the sensitivity becomes higher.
The Reason Why the Catalytic Sensor Has No Signal Output?
1) The vibration during transportation or use causes the sensor to broken wire; 2) High voltage or short circuit burnout.