MEMS Combustible Gas Sensor GM-402B
---
Summary:
MEMS combustible gas sensor is using MEMS micro- fabrication hot plate on a Si substrate base, gas-sensitive materials used in the clean air with low conductivity metal oxide semiconductor material. When the sensor exposed to gas atmosphere, the conductivity is changing as the detected gas concentration in the air. The higher the concentration of the gas, the higher the conductivity. Use simple circuit can convert the change of conductivity of the gas concentration corresponding to the output signal.
Feature:
* MEMS technology, Strong construction
* Good shock resistance
* Small sizes and low power consumption
* Fast response and resume
* Simple drive circuit, Long lifespan
---
APPLICATION
The combustible gas alarm is an alarm device for detecting gas leakage. The component that reacts to the combustible gas is a gas sensor, and the response signal is converted into an electrical signal through the circuit board. When the combustible gas in the air reaches a certain concentration value, the alarm will alarm. The high-end household combustible gas alarm can automatically start the exhaust equipment and close the gas pipeline valve at the same time. A wireless transmission device can be installed inside the gas alarm to realize overall monitoring and network alarm to ensure the safety of everyone's life and property.
Formaldehyde detector is an instrument for detecting formaldehyde. Generally, semiconductor sensors and electrochemical sensors are used to realize the rapid semi-quantification of formaldehyde in indoor air on the spot, which is characterized by simple structure, small size, intuitive,easy to carry and use.
Didn't Find Your Tarket Application?
Winsen offers tailor-made gas sensor solutions for your industry
Contact us
---
PARAMETER
Specification
Product Size
Technical Data Sheet
Part No.
GM-402B
Sensor Type
MEMS
Standard Encapsulation
Ceramic
Detection Gas
CH4, C3H8 &etc.
Detection Range
1~10000ppm (CH4) 1~10000ppm (C3H8)
Standard Circuit Conditions
Loop Voltage
VC
≤24V DC
Heater Voltage
VH
2.8V±0.1V AC or DC
Load Resistance
RL
Adjustable
Sensor character under standard test conditions
Heater Resistance
RH
80Ω±20Ω(room temperature)
Heater consumption
PH
≤80mW
sensitive materials resistance
RS
1KΩ~30KΩ(in 5000ppm CH4) 1KΩ~30KΩ(in 2000ppm C3H8)
Sensitivity
S
R0(in air)/Rs(in 5000ppmCH4)≥3 R0(in air)/Rs(in 2000ppmC3H8)≥3
Standard test conditions
Temp. Humidity
20℃±2℃;55%±5%RH
Standard test circuit
VH:2.8V±0.1V;VC :5.0V±0.1V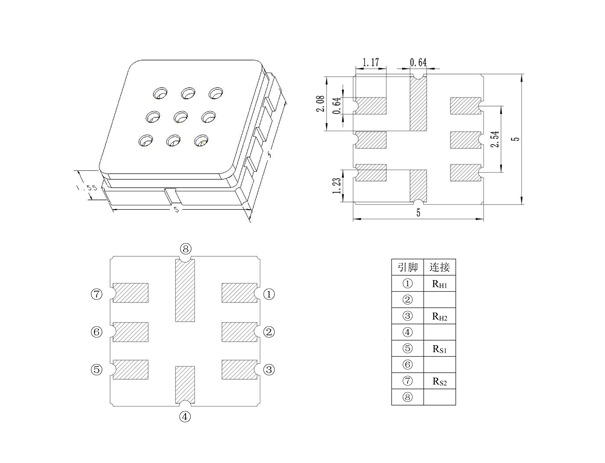 Free Guide! Learn the Parameter Differences of Similar Sensors
Wondering how to find the most suitable one for you out of so many sensors? Download our free guide to learn the comparison table of technical parameters.
DOWNLOAD GUIDE
RELATED PRODUCTS
As a pioneer in gas sensor based solutions with the advanced processes, technologies and products, Winsen offers a wide range of gas sensors:
RELATED PRODUCTS
As a pioneer in gas sensor based solutions with the advanced processes, technologies and products, Winsen offers a wide range of gas sensors:
WHY CHOOSE WINSEN
Professional and Trustworthy
Brand Precipitation
Focus on Sensor Field
National Patents
International Advanced Technology
Detection Objects
More Than 300 Kinds
---
Production Process
Excellence Products
Provide 60+ Countries with Solutions
Serve the Global Market
Cooperate with 300+ well-known Enterprises
More Customer's Choice
How to choose the right sensor for your project?
We have 17 sensor series, 200+ categories, and 300+ detection objects for gas detection. Such as CO, CO2, VOC, PM2.5, CH4, LPG and so on. In particular, we also have MEMS sensors. According to your industry application, gas principle, power consumption, accuracy, and range requirements, and we can select a specific model for you. You can also use the product filter below to choose a suitable product, or choose online serivce.
Here you can learn about the selection guide, common technical problems, packaging, transportation, MOQ, delivery time, etc.
Can the Two Voltages of Mq-7 Exist All the Time, or Do They Need to Be Powered Alternately? if It is an Alternate Power Supply, What is the Appropriate Power Supply Time?
It requires alternate power supply. Please check the information on the product manual. This sensor is powered by 1.5V and 5V alternately. The low temperature and low voltage (1.5V) state can detect CO, and the high voltage (5V) is the desorption process. The recommended 5V voltage duration is 60s, 1.5V voltage duration is 90s to alternately supply power. Since it is a desorption process at 5V, it is normal for the voltage to drop when CO is 150ppm.
What is the Difference Between Semiconductor Sensors and Electrochemical Sensors?
There is no good linear correspondence between the gas concentration and voltage of the semiconductor sensor, and it is generally only used for fixed-point calibration products; there is a good linear correspondence between the gas concentration and the output current of the electrochemical sensor, and can be made into quantitative detection products.
What Are the Precautions for Manual Soldering of Semiconductor Sensors?
1. Flux: rosin flux with the least chlorine; 2. Constant temperature soldering iron; 3. Temperature: 250℃; 4. Time: no more than 3 seconds.