PID sensor module ZI01
---
Summary:
ZI01 is a high-performance PID sensor module, which adopts PID sensor and high-performance microprocessor. The target gas is bombarded with ultraviolet light generated by an ion lamp. Then gas is illuminated by the ultraviolet light produced by ion lamp, which will be ionized after absorbing enough ultraviolet light energy. Concentration of the target gas can be detected by measuring the tiny current generated by gas ionization.
The module can accurately measure the concentration of a variety of volatile organic compounds (VOCs) in the environment. It has digital output and analog voltage output, which is convenient for users to use and debug, and greatly reduces the design and development cycle for users. It perfectly combines PID sensor and circuit to meet the needs of customers for field detection.

Main Application
It is widely applicable to portable and fixed gas detectors, as well as various occasions and equipment requiring VOC gas detection.
◆ Emergency response
◆ Industrial hygiene
◆ Personnel safety
◆ VOCs detection
◆ Environmental quality monitoring
◆ Oil and petrochemical safety
◆ Soil pollution and treatment
Feature:
* High sensitivity and resolution
* Small sizes
* UART and analog voltage signal output mode
* High stability;
* Strong anti-interference ability

---
APPLICATION
The septic tank is a device for processing feces and filtering. The principle is that the solidified material is decomposed at the bottom of the pool, and the hydrated objects in the upper layer enter the pipeline and flow away, preventing the pipeline from clogging and providing solidified objects (feces and other garbage)with enough time to hydrolyze.
Petrochemical Industry Toxic Gas Monitoring
The energy provided by the petrochemical industry is mainly used as fuel for automobiles, tractors, airplanes, ships and boilers. At the same time, refinery enterprises provide various chemical raw materials for the chemical industry, and flammable gas also enters thousands of households.
Formaldehyde detector is an instrument for detecting formaldehyde. Generally, semiconductor sensors and electrochemical sensors are used to realize the rapid semi-quantification of formaldehyde in indoor air on the spot, which is characterized by simple structure, small size, intuitive,easy to carry and use.
Didn't Find Your Tarket Application?
Winsen offers tailor-made gas sensor solutions for your industry
Contact us
---
PARAMETER
Specification
Product Size
Technical Data Sheet
Model No.

ZI01

Detection Gas

VOCs

Detection Range

Subject to table2.

Working voltage

DC 5±0.1 V

Working current

<30 mA

Output signal

UART (TTL level 3.3 V)

Analog voltage(The raw amplified signal of the sensor is shown in Table 2)

Lifespan

3 years (Excludes sensor bulb and electrode cover)

Working environment

Temperature: -40~55℃

Humidity: 0%~95%RH(No condensation)

Dimension

ø23.3mm*32.3mm (Profile diameter * Profile height)

Weight

<20 g
Detection range and Signal output
| | | | | | | |
| --- | --- | --- | --- | --- | --- | --- |
| Detection Range | (0-2000)ppm | (0-1000)ppm | (0-100)ppm | (0-50)ppm | (0-10)ppm | --- |
| Resolution | 1ppm | 1ppm | 0.1ppm | 0.01ppm | 0.001ppm | --- |
| VONormal voltage range | (0.05-3.2)V | (0.05-3.2)V | (0.05-3.2)V | (0.05-3.2)V | (0.05-3.2)V | --- |
| Response time(T90) | ≤10S | ≤10S | ≤10S | ≤10S | ≤10S | --- |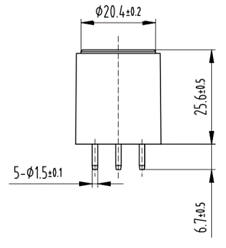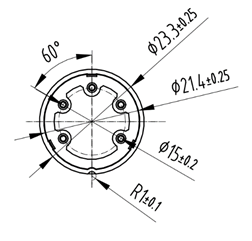 Free Guide! Learn the Parameter Differences of Similar Sensors
Wondering how to find the most suitable one for you out of so many sensors? Download our free guide to learn the comparison table of technical parameters.
DOWNLOAD GUIDE
RELATED PRODUCTS
As a pioneer in gas sensor based solutions with the advanced processes, technologies and products, Winsen offers a wide range of gas sensors:
RELATED PRODUCTS
As a pioneer in gas sensor based solutions with the advanced processes, technologies and products, Winsen offers a wide range of gas sensors:
WHY CHOOSE WINSEN
Professional and Trustworthy
Brand Precipitation
Focus on Sensor Field
National Patents
International Advanced Technology
Detection Objects
More Than 300 Kinds
---
Production Process
Excellence Products
Provide 60+ Countries with Solutions
Serve the Global Market
Cooperate with 300+ well-known Enterprises
More Customer's Choice
How to choose the right sensor for your project?
We have 17 sensor series, 200+ categories, and 300+ detection objects for gas detection. Such as CO, CO2, VOC, PM2.5, CH4, LPG and so on. In particular, we also have MEMS sensors. According to your industry application, gas principle, power consumption, accuracy, and range requirements, and we can select a specific model for you. You can also use the product filter below to choose a suitable product, or choose online serivce.
Here you can learn about the selection guide, common technical problems, packaging, transportation, MOQ, delivery time, etc.
How is your packaging condition?
What is your delivery term?
What is your pre-sales service?
We can recommend sensors based on the target gas and the industrial application to help you quickly select the most suitable one. Sensor Module is also available to save your design time and cost.