Solid Electrolyte CO2 Sensor MG812
---
Summary:
MG-812 is a semiconductor oxide chemical sensor that uses solid electrolyte battery principles to detect CO2. When the sensor is kept at a certain working temperature and placed in a CO2 atmosphere, an electrode reaction occurs between the positive and negative electrodes of the battery, and the output signal voltage is inversely proportional to the logarithm of the CO2 concentration. A voltage change in the test signal can detect a change in the CO2 concentration.
Feature:
* Small sizes
* Low power-consumption
* High sensitivity and good selectivity
* Less affection by temperature and humidity
* Good stability and repeatability
---
APPLICATION
Compared with traditional agriculture, greenhouse planting is an intensive industry. In the current greenhouse projects, the main economic crops are vegetables, flowers, medicinal materials, etc. For agricultural planting, greenhouses can provide a relatively stable and controllable planting environment to improve the stable yield and quality assurance of crops. At the same time, greenhouse planting can also achieve mechanized control and reduce labor costs.
The World Health Organization's "Indoor Air Pollution and Health" pointed out that the current level of indoor air pollution is 5-10 times higher than outdoor pollution, and 4% of global diseases are related to indoor air quality, and about 2 million people die prematurely each year from diseases caused by indoor air pollution.
Didn't Find Your Tarket Application?
Winsen offers tailor-made gas sensor solutions for your industry
Contact us
---
PARAMETER
Specification
Product Size
Technical Data Sheet
| | |
| --- | --- |
| Model No. | MG812 |
| Standard pack | Metal shell |
| Target gas | CO2 |
| Detection range | 0~ 10000ppm CO2 |
| Heater voltage VH | 5.0 ± 0.1 V |
| Heater resistance RH | 60.0 ± 5Ω |
| Heater current IH | 85 ± 10mA |
| Heater consumption PH | 420 ± 50mW |
| Working temp Tao | -20~50℃ |
| Storage temp | -20~70℃ |
| Zero EM F | 200-400mV (in 400ppm CO2) |
| Output signal △EM F | ≥20mV EMF (40ppmCO2)- EMF (1000ppmCO2) |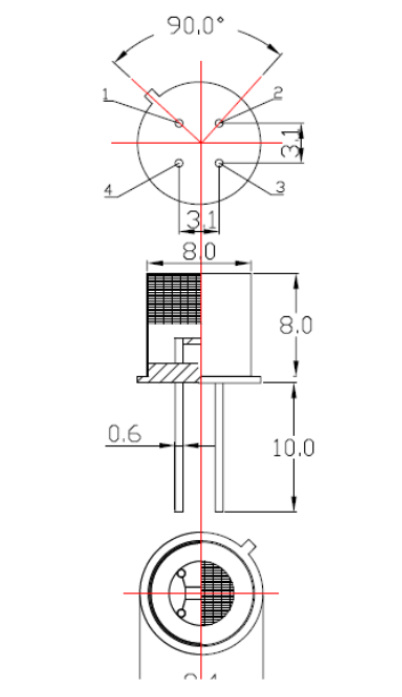 Free Guide! Learn the Parameter Differences of Similar Sensors
Wondering how to find the most suitable one for you out of so many sensors? Download our free guide to learn the comparison table of technical parameters.
DOWNLOAD GUIDE
RELATED PRODUCTS
As a pioneer in gas sensor based solutions with the advanced processes, technologies and products, Winsen offers a wide range of gas sensors:
RELATED PRODUCTS
As a pioneer in gas sensor based solutions with the advanced processes, technologies and products, Winsen offers a wide range of gas sensors:
WHY CHOOSE WINSEN
Professional and Trustworthy
Brand Precipitation
Focus on Sensor Field
National Patents
International Advanced Technology
Detection Objects
More Than 300 Kinds
---
Production Process
Excellence Products
Provide 60+ Countries with Solutions
Serve the Global Market
Cooperate with 300+ well-known Enterprises
More Customer's Choice
How to choose the right sensor for your project?
We have 17 sensor series, 200+ categories, and 300+ detection objects for gas detection. Such as CO, CO2, VOC, PM2.5, CH4, LPG and so on. In particular, we also have MEMS sensors. According to your industry application, gas principle, power consumption, accuracy, and range requirements, and we can select a specific model for you. You can also use the product filter below to choose a suitable product, or choose online serivce.
Here you can learn about the selection guide, common technical problems, packaging, transportation, MOQ, delivery time, etc.
What is your pre-sales service?
We can recommend sensors based on the target gas and the industrial application to help you quickly select the most suitable one. Sensor Module is also available to save your design time and cost.
What is your after-sales service?
If there is any problem in the process of testing and use, you can contact us by email, hotline, technical consultation etc, we will do our best to solve your problem.