Vehicle Hydrogen Gas Leakage Detection Module ZC61
---
Summary:
ZC61 hydrogen leakage sensor is mainly used in the monitoring of hydrogen leakage in the hydrogen fuel cell engine and hydrogen supply pipeline system. The catalytic combustion sensor of the MEMS process is used to detect the hydrogen concentration. This sensor is a high -performance module made by closely combining mature detection technology with high-quality design circuits.
Mainly application:
Hydrogen energy vehicles, hydrogen energy preparation, hydrogen energy storage, and hydrogen energy transportation.

Feature:
* MEMS process
* Intelligent algorithms
* Anti-electromagnetic interference
* CAN interface output
* Excellent repeatability and stability
* Long service life
---
APPLICATION
Cars using natural gas as fuel can save nearly half of the cost. Driven by economic interests, most taxi drivers tend to switch to natural gas cars. It is understood that the main reason for the explosion of the natural gas vehicle is the quality and stability of the gas cylinder. In most cities, there are no qualified manufacturers for modification or formal inspection agencies for natural gas compression cylinders for taxis, but the number of modified gas taxis is increasing day by day. Natural gas vehicles travel through the streets of the urban, with great fluidity and instability, and there are considerable hidden dangers.
Didn't Find Your Tarket Application?
Winsen offers tailor-made gas sensor solutions for your industry
Contact us
---
PARAMETER
Specification
Product Size
Technical Data Sheet
| | |
| --- | --- |
| Model | ZC61 |
| Detection theory | Catalytic combustion |
| Detecting gas | Hydrogen(H2) |
| Supply voltage(V) | DC 12V (9~16V) |
| Measuring range | 0-40000ppm |
| Detection accuracy | ±10% above1%H2 |
| Output signal | CAN |
| Response Time | ≤3s (T80) |
| Recovery Time | ≤10s |
| Rated Current | <25mA |
| Power Consumption | <0.5W |
| WorkingTemperature | -35~+85℃ |
| Working Humidity | ≤95%RH (No condensation) |
| Storage Environment | -40~+125℃ |
| Protection Grade | IP67 |
| Catalytic conditions | Oxygen content not less than 15% |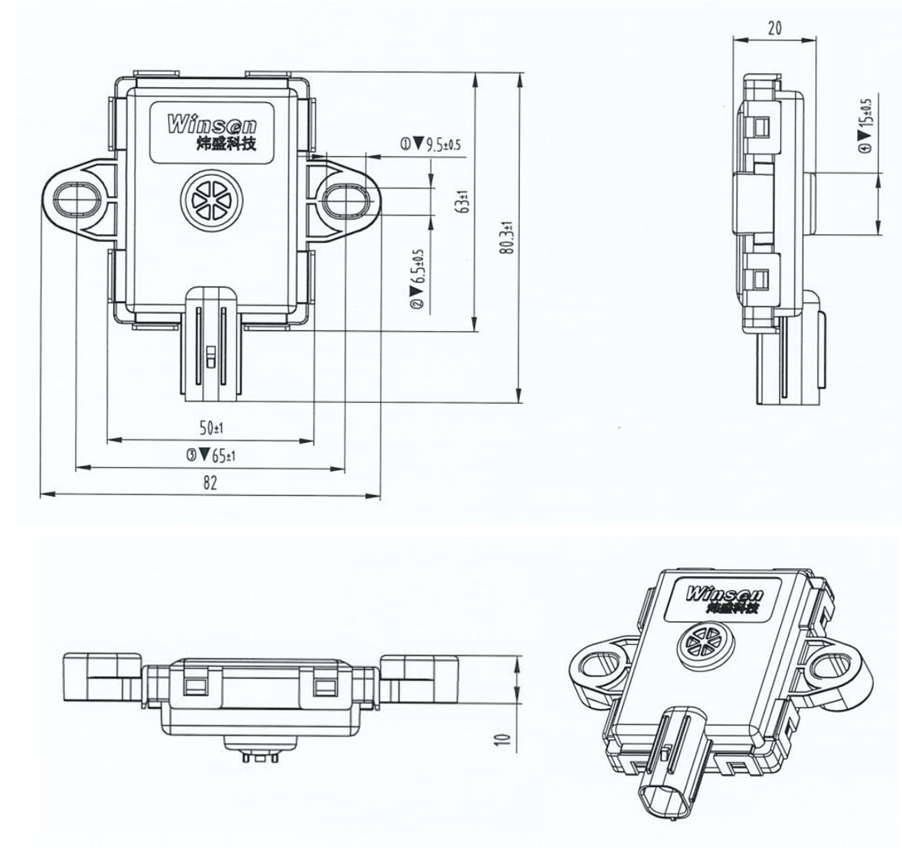 Undeclared dimensional tolerance requirements: 6mm~30mm: ± 0.5mm, 30mm~120mm: ± 0.8mm
Remarks: Refer to GB/T 1804-C Glass-level Size Extreme deviation Requirements

Free Guide! Learn the Parameter Differences of Similar Sensors
Wondering how to find the most suitable one for you out of so many sensors? Download our free guide to learn the comparison table of technical parameters.
DOWNLOAD GUIDE
RELATED PRODUCTS
As a pioneer in gas sensor based solutions with the advanced processes, technologies and products, Winsen offers a wide range of gas sensors:
RELATED PRODUCTS
As a pioneer in gas sensor based solutions with the advanced processes, technologies and products, Winsen offers a wide range of gas sensors:
WHY CHOOSE WINSEN
Professional and Trustworthy
Brand Precipitation
Focus on Sensor Field
National Patents
International Advanced Technology
Detection Objects
More Than 300 Kinds
---
Production Process
Excellence Products
Provide 60+ Countries with Solutions
Serve the Global Market
Cooperate with 300+ well-known Enterprises
More Customer's Choice
How to choose the right sensor for your project?
We have 17 sensor series, 200+ categories, and 300+ detection objects for gas detection. Such as CO, CO2, VOC, PM2.5, CH4, LPG and so on. In particular, we also have MEMS sensors. According to your industry application, gas principle, power consumption, accuracy, and range requirements, and we can select a specific model for you. You can also use the product filter below to choose a suitable product, or choose online serivce.
Here you can learn about the selection guide, common technical problems, packaging, transportation, MOQ, delivery time, etc.
How is your packaging condition?
What is your delivery term?