Electrochemical H2S Sensor MEu-H2S
---
Summary:
MEu-H2S hydrogen sulfide gas sensor is a constant-potential electrolytic sensor. Hydrogen sulfide and oxygen undergo corresponding redox reactions at the working electrode and the counter electrode and release charges to form a current. The current is proportional to the hydrogen sulfide concentration. Can determine the level of hydrogen sulfide concentration.
Feature:
* Excellent repeatability and stability
---
APPLICATION
Formaldehyde detector is an instrument for detecting formaldehyde. Generally, semiconductor sensors and electrochemical sensors are used to realize the rapid semi-quantification of formaldehyde in indoor air on the spot, which is characterized by simple structure, small size, intuitive,easy to carry and use.
Industrial waste gas refers to the general term for various pollutant-containing gases discharged into the air generated during the fuel combustion and production process in the factory area of the enterprise. These gases enter the human body through the respiratory tract through different routes, some directly cause harm, and some have an accumulation effect, which will seriously endanger human health.
Didn't Find Your Tarket Application?
Winsen offers tailor-made gas sensor solutions for your industry
Contact us
---
PARAMETER
Specification
Product Size
Technical Data Sheet
Parameter
Detection Gas
Hydrogen Sulfide (H2S)
Range
0~100ppm
Maximum measurement limit
500ppm
Sensitivity
(0.8±0.15) µA/ppm
Response time (T90)
<15s
Zero output (in clean air)
<±2ppm (equivalent to H2S)
Zero drift (-40℃~+50℃)
<+10ppm (equivalent to H2S)
Repeatability
<2% output value
Linear
Within ±5%
Stability (average decay/month)
<2%
Working environment
Range of working temperature
Continue working
-20℃~+40℃
Intermittent work
-40℃~+55℃
Operating humidity range
15%RH~90%RH (non-condensing)
Working pressure range
1atm±10%
Lifespan
Long term output drift
<20% per year
Recommended storage environment
+10℃~+30℃
Expected service life
2 years (in air)
Storage time
≤6 months in original packaging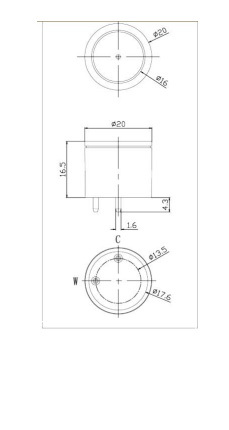 Free Guide! Learn the Parameter Differences of Similar Sensors
Wondering how to find the most suitable one for you out of so many sensors? Download our free guide to learn the comparison table of technical parameters.
DOWNLOAD GUIDE
RELATED PRODUCTS
As a pioneer in gas sensor based solutions with the advanced processes, technologies and products, Winsen offers a wide range of gas sensors:
RELATED PRODUCTS
As a pioneer in gas sensor based solutions with the advanced processes, technologies and products, Winsen offers a wide range of gas sensors:
WHY CHOOSE WINSEN
Professional and Trustworthy
Brand Precipitation
Focus on Sensor Field
National Patents
International Advanced Technology
Detection Objects
More Than 300 Kinds
---
Production Process
Excellence Products
Provide 60+ Countries with Solutions
Serve the Global Market
Cooperate with 300+ well-known Enterprises
More Customer's Choice
How to choose the right sensor for your project?
We have 17 sensor series, 200+ categories, and 300+ detection objects for gas detection. Such as CO, CO2, VOC, PM2.5, CH4, LPG and so on. In particular, we also have MEMS sensors. According to your industry application, gas principle, power consumption, accuracy, and range requirements, and we can select a specific model for you. You can also use the product filter below to choose a suitable product, or choose online serivce.
Here you can learn about the selection guide, common technical problems, packaging, transportation, MOQ, delivery time, etc.
Factory or Trade Company?
Winsen is a factory with over 30,000 square meters area and 500+ production machines which is focusing on sensors development&manufacturing. It has strong R&D strength with more than 100 R&D personnel.
What is your warranty term?
The warranty period is one year from the date of shipment. If the appearance of the product is not damaged, it can be returned after confirmation. For damage not caused by Winsen, the customer shall bear all maintenance costs.