Infrared Photoelectric Sensor RGF-X2212
---
Summary:
The uncooled lead selenide (PbSe) sensor is a lead salt infrared photoelectric sensor, and its working principle is based on the photoconductive effect of semiconductor materials, thereby converting infrared radiation energy into electrical signals. PbSe sensor has strong absorption and response in the near and mid-infrared (1.0~5.0um) spectral bands; it is widely used in flame, high temperature and gas detection;
Feature:
* TO-5 package; uncooled
* Fast response; high detection rate
---
APPLICATION
The infrared alarm to prevent human intrusion is composed of pyroelectric infrared sensor and alarm controller. When someone enters the range to be protected, the sensor generates an electrical signal and transmits it to the controller, and the controller sends the alarm signal to the terminal through signal processing.
Didn't Find Your Tarket Application?
Winsen offers tailor-made gas sensor solutions for your industry
Contact us
---
PARAMETER
Specification
Product Size
Technical Data Sheet
| | | |
| --- | --- | --- |
| Performance | Typical value | Unit |
| Photosensitive area | 2*2 | mm |
| Response wavelength range | 1-5 | μm |
| Peak wavelength | 3.8 | μm |
| Response time | 20 | us |
| Peak responsivity | 4*104 | V/W |
| Peak Normalized Detection Rate | 1*1010 | cm·Hz½/W |
| Dark resistance | 1-10 | MΩ |
| Operating temperature | -30~60 | ℃ |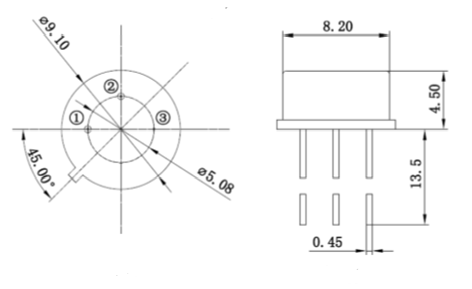 Free Guide! Learn the Parameter Differences of Similar Sensors
Wondering how to find the most suitable one for you out of so many sensors? Download our free guide to learn the comparison table of technical parameters.
DOWNLOAD GUIDE
RELATED PRODUCTS
As a pioneer in gas sensor based solutions with the advanced processes, technologies and products, Winsen offers a wide range of gas sensors:
RELATED PRODUCTS
As a pioneer in gas sensor based solutions with the advanced processes, technologies and products, Winsen offers a wide range of gas sensors:
WHY CHOOSE WINSEN
Professional and Trustworthy
Brand Precipitation
Focus on Sensor Field
National Patents
International Advanced Technology
Detection Objects
More Than 300 Kinds
---
Production Process
Excellence Products
Provide 60+ Countries with Solutions
Serve the Global Market
Cooperate with 300+ well-known Enterprises
More Customer's Choice
How to choose the right sensor for your project?
We have 17 sensor series, 200+ categories, and 300+ detection objects for gas detection. Such as CO, CO2, VOC, PM2.5, CH4, LPG and so on. In particular, we also have MEMS sensors. According to your industry application, gas principle, power consumption, accuracy, and range requirements, and we can select a specific model for you. You can also use the product filter below to choose a suitable product, or choose online serivce.
Here you can learn about the selection guide, common technical problems, packaging, transportation, MOQ, delivery time, etc.
What trading term are supported?
What certificates do your company have?
Our company has passed the following quality control system and obtained certificates ISO9001, ISO14001, ISO45001 & GB/T29490,GB/T 23001 &IATF16949 & RoHS & CE & UL & Anti-Explosion & Coal Mining Safety Certification.
How to use after receiving the goods?
We provide all necessary technical guidance for installation and application by instructions and one-on-one manual service.