Refrigerant Gas Detection Module ZP211
---
Summary:
The ZP211 refrigerant gas detection module adopts advanced multi-layer thick film manufacturing process semiconductor gas sensor. The gas sensor contains a filter adsorption layer to reduce the interference of alcohol and other gases. It has extremely high sensitivity to R290 refrigerant gas. After aging , calibration, calibration, with good consistency and high sensitivity. Widely used in air conditioning, refrigeration system refrigerant leakage detection.
Feature:
* High sensitivity
* Quick response
* Strong anti-interference ability
* Long life
* Stable job
* Factory calibrated
* Sensor fault self-diagnosis
---
APPLICATION
Winsen is a well -known gas sensor production supplier in the world, providing mature gas, natural gas, liquefied gas detection scheme, offering abundant models suitable for all gas alarms on the market, and flexible modules meeting the integration requirements of almost all kitchen electrical suppliers.
Smart refrigerators are constantly innovating in the cross-border integration of different technologies. The addition of food freshness, human body induction, CO2 modules, allowing temperature control, ingredients management, automatic sterilization, intelligent alarm and other functions to continuously refresh the market for reconstructing future life style.
Didn't Find Your Tarket Application?
Winsen offers tailor-made gas sensor solutions for your industry
Contact us
---
PARAMETER
Specification
Product Size
Technical Data Sheet
| | |
| --- | --- |
| Model | ZP211 |
| Detected gas | Refrigerant R290 |
| Physical interface | S05B-PASK-2 |
| Signal output | PWM |
| Operating Voltage | 5.0±0.2VDC (no voltage reverse polarity protection) |
| Working current | ≤80mA |
| Preheat time | 3 minutes |
| Recovery Time | ≤120s |
| Set the alarm concentration | 2000ppm |
| Initial alarm accuracy | 1340~2660ppm |
| Operating temperature | -20~55℃ |
| Working humidity | ≤95%RH |
| Storage temperature | -20~60℃ |
| Storage humidity | ≤60%RH |
| Dimensions | 25×34×14.1mm (L×W×H) |
| Weight | about 5g |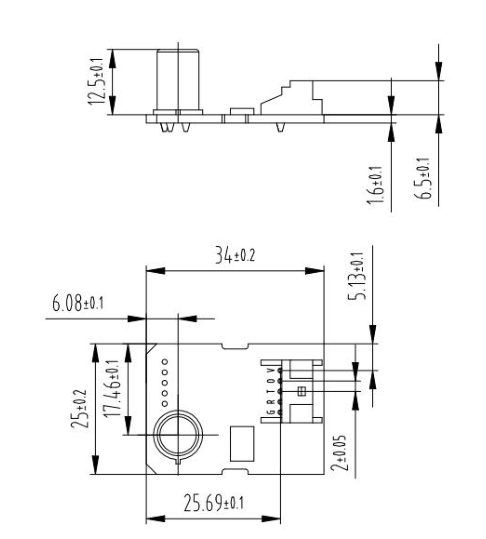 Free Guide! Learn the Parameter Differences of Similar Sensors
Wondering how to find the most suitable one for you out of so many sensors? Download our free guide to learn the comparison table of technical parameters.
DOWNLOAD GUIDE
RELATED PRODUCTS
As a pioneer in gas sensor based solutions with the advanced processes, technologies and products, Winsen offers a wide range of gas sensors:
RELATED PRODUCTS
As a pioneer in gas sensor based solutions with the advanced processes, technologies and products, Winsen offers a wide range of gas sensors:
WHY CHOOSE WINSEN
Professional and Trustworthy
Brand Precipitation
Focus on Sensor Field
National Patents
International Advanced Technology
Detection Objects
More Than 300 Kinds
---
Production Process
Excellence Products
Provide 60+ Countries with Solutions
Serve the Global Market
Cooperate with 300+ well-known Enterprises
More Customer's Choice
How to choose the right sensor for your project?
We have 17 sensor series, 200+ categories, and 300+ detection objects for gas detection. Such as CO, CO2, VOC, PM2.5, CH4, LPG and so on. In particular, we also have MEMS sensors. According to your industry application, gas principle, power consumption, accuracy, and range requirements, and we can select a specific model for you. You can also use the product filter below to choose a suitable product, or choose online serivce.
Here you can learn about the selection guide, common technical problems, packaging, transportation, MOQ, delivery time, etc.
What is your delivery term?