Temperature and Humidity Sensor Module ZS21
---
Summary:
ZS21 is a brand new product equipped with a dedicated ASIC sensor chip, a high-performance semiconductor silicon-based capacitive humidity sensor and a standard on-chip temperature sensor, and is connected with a high-performance 8-bit microcontroller to output standard I2C data signals. At the same time, each sensor is calibrated in a high-precision temperature and humidity verification box, so the product has good consistency; ZS21 products use special humidity-sensitive materials, so that their performance is extremely stable in high-temperature and high-humidity environments. It has the advantages of fast response, strong anti-interference ability, and high cost performance.
Application
Home appliance fields: home appliance, humidity control, HVAC, dehumidifiers, smart thermostats, and room monitors ;Industrial fields: automobiles, testing equipment, and automatic control devices;
Other fields: data loggers, weather stations, medical and other related temperature and humidity detection devices.
Feature:
* Fully calibrated
* Wide power supply voltage range, from 2.0V to 5.5V
* Digital output, standard I²C signal
* Quick response and strong anti-interference ability
* Excellent long-term stability under high humidity condition
* Low power consumption and high precision

---
APPLICATION
The World Health Organization's "Indoor Air Pollution and Health" pointed out that the current level of indoor air pollution is 5-10 times higher than outdoor pollution, and 4% of global diseases are related to indoor air quality, and about 2 million people die prematurely each year from diseases caused by indoor air pollution.
Didn't Find Your Tarket Application?
Winsen offers tailor-made gas sensor solutions for your industry
Contact us
---
PARAMETER
Specification
Product Size
Table 1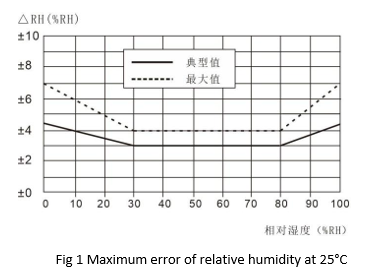 Table 2
Parameter

Condition

Min

Typical

Max

Unit

Resolution

Typical

-

0.01

-

°C

Accuracy error5

Typical

-

±0.5

-

°C

Max

See figure2

-

Repeatable

-

-

±0.1

-

°C

Hysteresis

-

-

±0.1

-

°C

Response time6

τ63%

5

-

30

s

Scope of work

-

-40

-

85

°C

Prolonged Drift

-

-

<0.04

-

°C/yr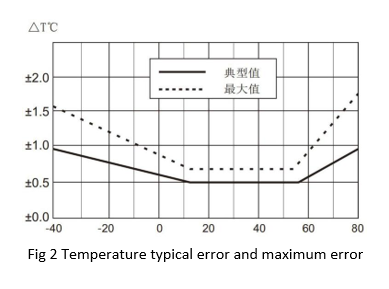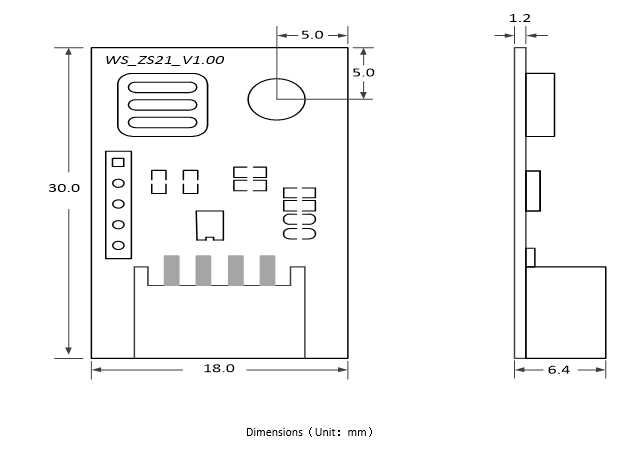 Free Guide! Learn the Parameter Differences of Similar Sensors
Wondering how to find the most suitable one for you out of so many sensors? Download our free guide to learn the comparison table of technical parameters.
DOWNLOAD GUIDE
RELATED PRODUCTS
As a pioneer in gas sensor based solutions with the advanced processes, technologies and products, Winsen offers a wide range of gas sensors:
RELATED PRODUCTS
As a pioneer in gas sensor based solutions with the advanced processes, technologies and products, Winsen offers a wide range of gas sensors:
WHY CHOOSE WINSEN
Professional and Trustworthy
Brand Precipitation
Focus on Sensor Field
National Patents
International Advanced Technology
Detection Objects
More Than 300 Kinds
---
Production Process
Excellence Products
Provide 60+ Countries with Solutions
Serve the Global Market
Cooperate with 300+ well-known Enterprises
More Customer's Choice
How to choose the right sensor for your project?
We have 17 sensor series, 200+ categories, and 300+ detection objects for gas detection. Such as CO, CO2, VOC, PM2.5, CH4, LPG and so on. In particular, we also have MEMS sensors. According to your industry application, gas principle, power consumption, accuracy, and range requirements, and we can select a specific model for you. You can also use the product filter below to choose a suitable product, or choose online serivce.
Here you can learn about the selection guide, common technical problems, packaging, transportation, MOQ, delivery time, etc.
What is your after-sales service?
If there is any problem in the process of testing and use, you can contact us by email, hotline, technical consultation etc, we will do our best to solve your problem.